Pine City (MN): The Team that is Revolutionizing High School Basketball
by Jefferson Mason, on May 19, 2017 10:35:46 AM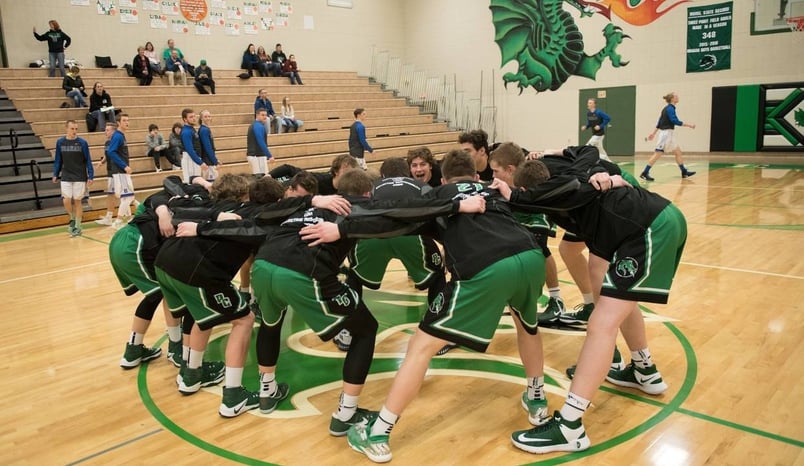 Dr. Dish Basketball recently had the opportunity to speak with Pine City (MN) Head Coach Kyle Allen. Pine City Boy's Basketball team has been a loyal Dr. Dish customer for years and their players and coaching staff represent everything we stand for here at Dr. Dish Basketball!
Revolutionizing High School Basketball
Pine City High School Basketball was recently featured in the Wall Street Journal and other news networks for their incredible style of play. The team uses their Dr. Dish shooting machines to help track stats in which they correlate with game play and efficiency. They are notorious for shooting a ton of 3 pointers and only shooting 2 pointers if they are inside the paint - much like the most analytically inclined NBA teams. Coach Allen's philosophy makes sense being that they didn't have a player over 6-foot-1 last season.
After speaking with Coach Allen I realized that he has a unique understanding of the game. Until recently, the majority of high school coaches nationwide have not given much thought into detailed analytics. A lot of this has to do with the lack of time and busy schedule most of them have. Coaches in the NBA and in college have many more resources to help track important metrics that have a hand in getting more wins. High school coaches on the other hand have maybe one other coach and some volunteers that may help. This leads to them typically training and preparing the "old" and "traditional" way. Many times, this ultimately doesn't allow players and teams to reach their maximum potential.
"We set standards that we expect our players to achieve. At each level we set goals that the players should reach if they expect to play at that level. We make sure to hold all players accountable from our youngest players on up." -Coach Kyle Allen
Coach Allen has given the kids the opportunity to not only play a fun style of basketball, but also the opportunity to maximize their potential as players. Pine City isn't a huge school (enrollment is ~750 students) with a wealth of basketball talent, but Coach Allen stressed the importance of developing players from the youth level on up.
How Pine City Prepares for Game Time
Coach Allen and his staff make sure that every player shoots at least 100 three pointers everyday at practice to prepare for the numerous attempts in games. He doesn't believe that his system and process is 100% fool proof, but he does believe it gives his team the best opportunity to win. Based on the team make up, it definitely fits them well. The offensive design was inspired by Grinnell College in Iowa, where in 2012 the run-and-gun attack helped Jack Taylor set the national scoring record with 138 points in a game.
"We wanted to adapt the ideas and concepts of what they were doing into what we already believed in," said Allen. "When you came back to it, the numbers are what kind of made sense for us. We really tried to focus in on being purposeful and efficient."
Dr. Dish Skill Builder
With the our recent release of Dr. Dish Skill Builder, Dr. Dish has taken training to the next level. Coaches can now select or create complete workouts based on their players strengths and weaknesses. Not only will this save coaches time, it will also help accelerate skill development for players of all positions and skill levels and build complete players.
"Skill Builder will just add another component to improve our program. Beyond the reps that Dr. Dish provides, Skill Builder will provide customization and detailed analytics that we previously never had access to. This will absolutely take our training to the next level."
We want to thank Coach Kyle Allen again for taking the time to chat with us and we know they will continue to build on the success Pine City Basketball has had! We're honored to help here at Dr. Dish Basketball as we'll continue to innovate alongside them.
---
See what Hall of Fame Coach Bob Hurley has to say about Dr. Dish!