The Ultimate Off-Season Checklist to Gain an Edge
by Nick Bartlett, on Apr 5, 2017 12:00:40 AM
As we enter into the off-season, it can be overwhelming to absorb the emotional roller coaster of the entire season and start devising a plan to improve over the next 5-7 months. The transition from daily practices/games to having none with limited interaction with your team is often a very abrupt occurrence at the end of the season.
Like most initiatives, it's hard to be successful without a plan. There are many things to consider when entering the off-season to prepare for greatness next season. At Dr. Dish Basketball, we're here to help. Between our innovative training solutions, basketball drills and workout content, and other coaching resources, we always put basketball coaches, trainers, and players first.
Below are 8 essential items to maximizing your off-season whether you are a coach or a player:
1. Take a Break
It may seem surprising to start with this as the first thing to check off, but it is very important to take a break after the season. All players and coaches know that the season can be an incredible grind. However, most seasons end earlier than you'd like. It's natural to want to second guess yourself and/or work even harder immediately after the end of the season.
Don't overreact. Be proud of what you accomplished even if you didn't reach your ultimate goals - very few usually do. Take this time to unwind. Spend time with your family. Go on vacation. Read a book. Take a week or two to completely unplug and you'll feel refreshed and ready to attack the off-season with more passion and desire than ever.
2. Get Organized
When the season concludes, there's often many clerical steps that should be tackled. Who is going to be returning next year? What is their contact info? What other sports are they playing? Will you have an off-season handbook? What are the roles/expectations of assistant coaches? Who is playing AAU basketball? Are you running a basketball camp in the summer?These are all questions that you should answer and have documented.
The Dr. Dish Training Management System makes this easy and user-friendly! You can enter all players into the system and keep them organized by level (JV, Varsity, etc.) and establish accountability throughout the entire off-season.
3. Review the Previous Season
Oftentimes this gets overlooked as coaches and players are eager to focus on the future. Before you get there, take a step back. Examine your team from top to bottom. What were your strengths and weaknesses? What fundamentals did you lack/should you be working on? Maybe even more importantly, how did the team grow throughout the year? How is the leadership and comradery? How can that be improved?
Once you fully review the previous season, priorities should emerge to work on this season. Write them down and make sure you communicate this to your entire program and specific players.
4. Set Tangible Goals
Once priorities are set, turn them into tangible goals. It's impossible to keep yourself or players accountable if there is no benchmark for success. Make sure it is clear to each player what is expected of them. While a basic "one size fits all" approach is simple, it's best to look at each player individually and establish what they specifically should be working on.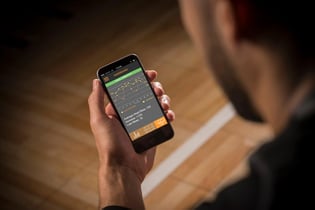 The Dr. Dish Training Management System and new Skill Builder makes this especially easy and customizable. You can assign complete, personalized workouts to each player.
5. Establish Consistent Communication
We know in most cases that basketball coaches are limited in their on-court presence with their teams. However, don't use this as an excuse to never communicate with your team in the off-season. It's 2017. Whether it's a Facebook group, group text, mass email and/or regular get-togethers, it's essential to establish consistent communication with your team to build cohesiveness and team bonding.
When it comes to on-court training or providing daily inspiration, it's easy to communicate with players through the Dr. Dish Training Management System. You can send personalized messages or group messages whenever you'd like. This is a great way to stay engaged and show your team that you genuinely care and are serious about accountability.
6. Track Progress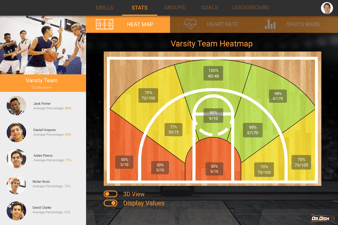 Inevitably, the more your players practice, the better they will get. It's important to track this progress as much as possible to provide added incentive for players to prove they are getting better. By having this data readily available, you can continue to work on specific strengths and weaknesses and potentially provide added incentives like a pizza party if the team reaches their goal.
The Dr. Dish Training Management provides easy to view analytics and workout by workout summaries to track progress. This benefits both players and coaches to visually see how hard work correlates to success.
7. Upgrade Equipment
Is it time to breathe new life into your program? One great way to do this in the off-season is to add excitement by upgrading or adding new equipment. Take inventory of what you currently have and determine what would be most helpful to beneficial to your program in the long run.
We might be a little biased, but adding a Dr. Dish (or two) can be the perfect addition to your team to accelerate skill development and rejuvenate the excitement around the program. Calling us a shooting machine doesn't do us justice. With the Dr. Dish All-Star you can train all areas of the floor with game location passing. This allows you to work on finishing, post moves, and virtually any game-like action.
8. Learn New Things
The off-season is the perfect time for continuing education and professional development. Like great players always adding to their game, great coaches also add to theirs. The game is constantly changing and becoming more analytical and the best coaches are adapting. Between online resources, coaching clinics, and books, there are a ton of ways to learn new philosophies and implement them into your program. Never stop learning!
By using Dr. Dish in your program, you can start using the provided detailed training analytics to learn more about your players and implementing that data into smarter coaching decisions.
If you want to fully take advantage of this off-season, make sure to check off the 8 critical items above and get ready for massive improvement and accountability.
---
Click below and see how Yale Basketball is using Dr. Dish to train smarter!