Raising Money for Basketball Training Equipment.. Coach Vera Tells All
by Nick Bonko, on May 14, 2015 2:59:40 PM
I think that it's safe to say, after speaking with coaches from all over the world, that 99% of them have one thing in common… They want to provide their program with the best basketball training equipment on the market to gain an edge over the competition.
However, coaches everywhere run into the same glaring problem time and time again… raising money. With this daunting problem in mind, many turn away from an opportunity that could get their team and program better.
But not so fast… We're here to say it's possible.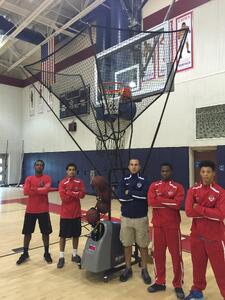 Queue Coach Nate Vera of Forest Hill High School in Florida. Coach Vera really peaked our interest when he told us his program's fantastic story of not only overcoming adverse financial situations, but helping to change the culture of his school by raising funds to purchase a Dr. Dish shooting machine.
Coach Vera started out like every coach, he knew that fundraising was going to be tough. "We're part of a low-income school and raising money for athletic programs is almost unheard of." However, Coach Vera knew that it was worth having his team put the time and effort into raising money for a Dr. Dish.
"I knew that this was the type of stuff that our team needed to do… Our school has a history of not doing well. For example, our football team in the 1990's had the longest losing streak in the nation." With this in mind, Coach Vera knew that the process of fundraising would not only assist his team in getting better, but help redefine the culture of Forest Hill High School.
Coach Vera established this goal and led his team to accomplish it by any means possible. "We did a lot of different things to fundraise. I had my players sell coupon books, organize car washes, we involved the community by creating a Go Fund Me account and we worked with Dr. Dish Basketball to create a great financing plan for us."
After a few months of fundraising, Coach Vera and his team raised enough money for a Dr. Dish Pro. And this past year, the football team had their first winning season in over 25 years. Coach Vera went on to explain that, "the Dr. Dish has definitely been worth every dollar" and that the shooting machine "encourages to get kids in the gym and working hard." When asked about the overall fundraising and Dr. Dish experiences, Coach Vera exclaimed that, "Athletics at our school is on the rise, one sport at a time. This experience honestly couldn't have been better."
To learn more about the fastest growing shooting machine in the world, feel free to check us out
Dr. Dish… Getting teams BETTER