Basketball Shooting Drills: Transition Shooting with Dr. Dish
by Nick Bartlett, on Nov 16, 2016 11:05:19 AM
With basketball shooting drills, it's essential that you always go at game speed and push yourself outside your comfort zone to best prepare for game-like conditions. In this shooting drill, we focus on simulating transition offense and having the wing players sprint wide. There must be an emphasis on SPRINTING to make sure the players are going at game speed. Let's check it out below:
Dr. Dish Drill of the Week - Transition Shooting
The Pass
While this is a basketball shooting drill, it's very important to focus on the pass. Often overlooked, the pass is a critical part of setting up the 3 point shot. If the pass is inaccurate, the shooter may not have enough time to readjust to get their shot off against the defense that is closing out. Also, it may put the shooter out of rhythm and make the shot that much more difficult.
Focus on making sure the pass is crisp and right into the shooter's pocket. This way they can get their feet set on the catch and shoot all in one motion. In this situation, the pass should almost always be a chest pass. If there is a defender in the way, it's likely not a smart pass to throw.
Footwork & The Shot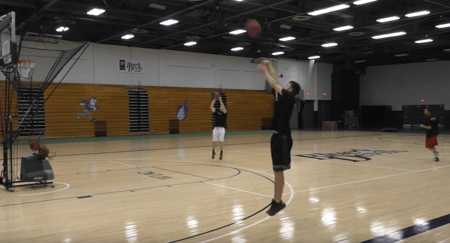 As mentioned above, it's important to be ready to shoot as soon as you catch the ball. In game-like scenarios the defense will likely be closing out on the shooter. Whether it's a quick 1-2 or hop into the shot, try and to prepare your body to shoot while the ball is in the air. Also make sure you're balanced and under control. By maintaining balance, if the defense does close out quickly, the shooter will be able to pump fake and attack the basket.
For the 2nd shot coming from the original passer, the same rule applies. We're simulating and inside out pass coming from the post or off an offensive rebound. Being in a stance and ready to shoot as the ball is in the air is very important. With every shot, shoot with complete confidence and EXPECT that it will go in.
---
These are great basketball shooting drills to work on fastbreak and transition scenarios. Always focus on going at game speed so that it becomes second nature when you're shooting these shots in a game. At Dr. Dish Basketball, we always train hard, train smart, and train with a purpose!
---
We know there are plenty of things on your basketball wish list. Find out why a shooting machine should be at the top!