Q&A With Player Development Coach Moris Hadzija
by William Schultz, on May 6, 2021 4:00:44 PM
We were excited to sit down with our newest partner, Coach Moris Hadzija. Coach Moris is an elite Performance and Skill Trainer located in Ulm, Germany. He now has access to our top of the line Dr. Dish CT machine to create custom drills and workouts. We chatted through his views on player development, and why he recommends a Dr. Dish to players looking to take their game to the next level.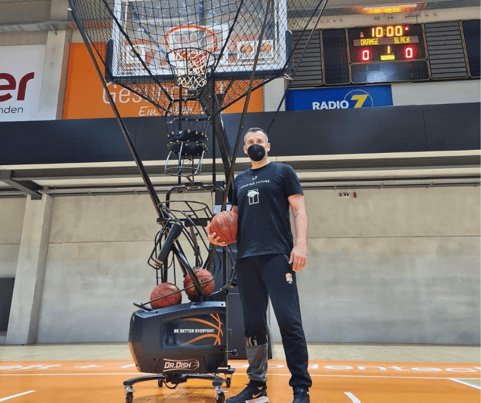 Q: Tell us a little about the role of drills in your player development practice?
A: Its hard to choose a specific role in my player development practices, because in the last 15 years I've worked with a diverse group of profiles from prospects to pros. The drills that I do in my development practices are all specific to what the players age and position is.
Q: When a player comes to you for help, tell us about the process you go through. How do you select the right drill for your players?
A: When a player comes to me looking for help the first thing I do is a detailed analysis of that players game. This analysis includes watching game film, talking with coaches and teammates in order to get detailed information on what that players strengths and weaknesses are. There isn't a special recipe when it comes to player development, there is more than one way to get to the end result. With my 15 years of experience I am quickly able to recognize what drills are needed for each individual player to reach their wish result.
Q: Have you experienced players who do everything you ask in drills but don't integrate new skills into their games? How can players, trainers, and coaches overcome this challenge?
A: In my opinion repetition, fundamentals and balance are the key to success. The most important thing that players and coaches should know is, not every player is capable of doing everything on the court. Therefore my focus is boosting their strengths to maximize their efficiency, as well as working on position based needs. For example, a shooting guard may be a great shooter but should also know how finish around the basket or use a ball screen. It's easier for my players to use new skills in their games because we are constantly repping game like situations.
Q: What can you tell us about the positive trends you see in basketball training? What about negative trends?
A: Some positive trends I see in basketball training today is general globalization of the sport through social media. With the internet and social media being so big today, players have access to a ton of information to gather knowledge of the game. In my opinion one of the negative trends that stick out to me the most is training sessions are becoming a little to soft and easy. I like to make sure I challenge my players bringing a little old school toughness to each session.
Q: What percentages of time should be spent on skill development, playing games/pick-up, and strength and conditioning?
A: They're all equally important to a players success and should be taken seriously all year round. But its important that the player focuses balancing their load and recovery. In my opinion players should have an organized plan for their offseason (offseason player development, strength and conditioning program, and pick up games) season (team practices, in season adjustment player development, in season strength and conditioning, and season games) post season (recovery, light post season player development, maintaining fitness).
Q: What would be your advice to ambitious players on how to use Dr. Dish?
A: I highly recommend Dr. Dish. It is a great tool to use with endless options to perfect your craft. The CT machine is state of the art and best in the business. This machine is great for players at all levels and will without a doubt have a positive impact on your game.
Q: Can you share with us a little about how people can connect with you?
A: Contact me on all social media, @coachmoris looking forward to hearing from you!
---
We are thrilled to have Coach Moris join our team to share his knowledge with the rest of the #DrDishFam. Stay tuned for his workouts to be shared very soon!