🏀Vision into Reality: MAROUSSI B.C.'s Bold Goals Fueled by DR. DISH CT+
by William Schultz, on Sep 20, 2023 3:05:17 PM
G.S. Amarousiou Academy and Maroussi B.C. of the Greek A1 Basketball League, has introduced the DR. DISH CT+ BASKETBALL SHOOTING MACHINE, marking a significant leap forward in their training regimen.
What makes this introduction even more special is that G.S. Amarousiou is the first team in Greece to embrace the advanced CT+ model from Dr. Dish. Similar machines are already in use by top American colleges, major European teams, and academies worldwide, elevating the training experience and contributing to player development.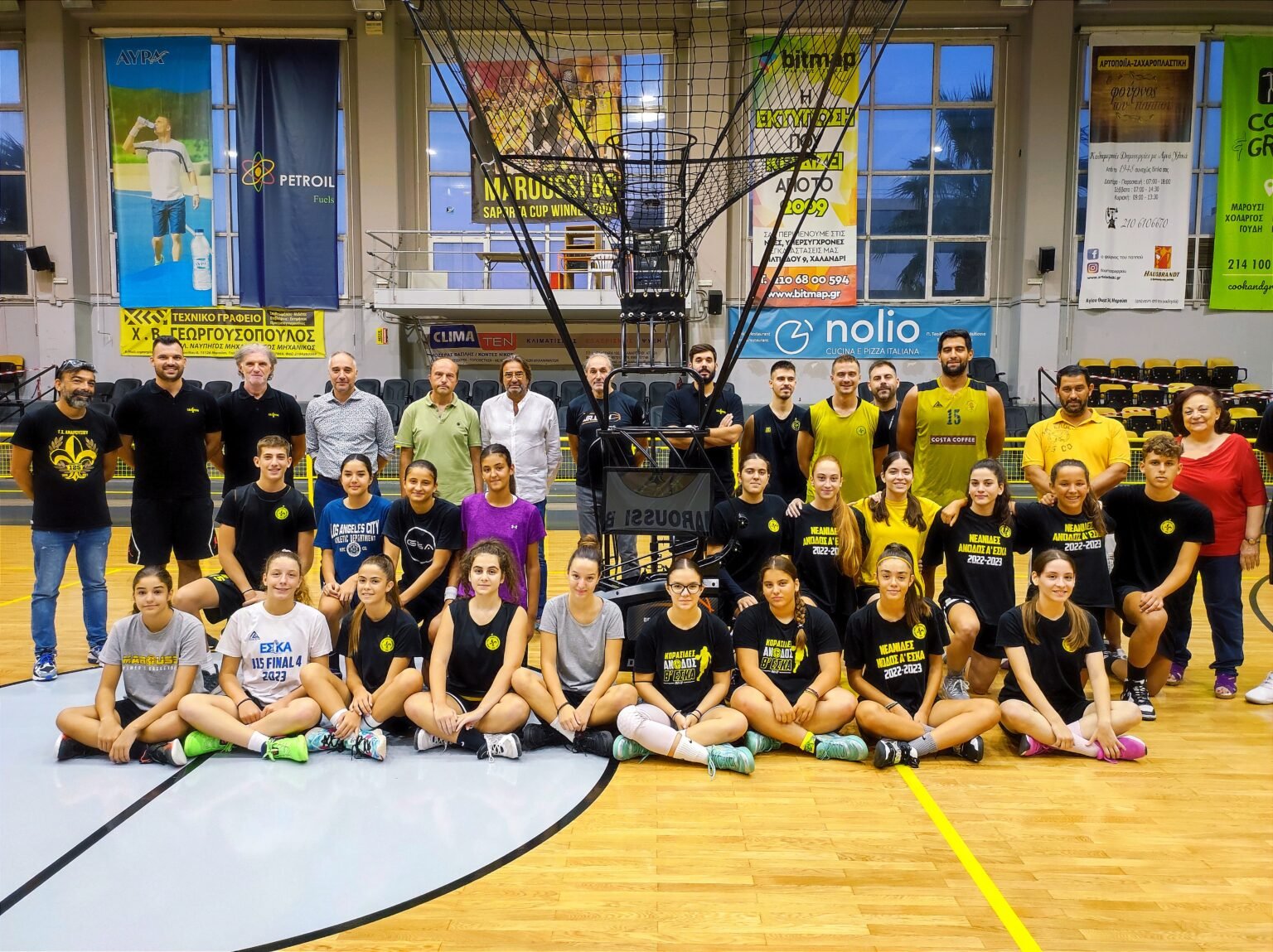 The official presentation of the DR. DISH CT+ was attended by notable figures, including the GSA Board of Directors, led by President Christos Georgousopoulos. Also present were key members of the men's team, coaches, and captains from the previous year. The event was also attended by representatives from the Municipality of Amarousi and the Hellenic Basketball Federation, emphasizing the importance of this innovation for the local community and Greek basketball as a whole.
Christos Georgousopoulos, President of the Association, expressed gratitude for the EEC's support and highlighted the positive impact this acquisition would have on Greek basketball's development.
---
"Our goal is to not only nurture outstanding athletes but also to shape well-rounded individuals who embody sportsmanship, discipline, and teamwork. Our vision extends beyond the court - it's about nurturing the next generation of leaders through basketball."
---
He also praised Tasos Delimbaltadakis, the Operation Manager of the EliteLeague, for his dedication to such transformative ideas.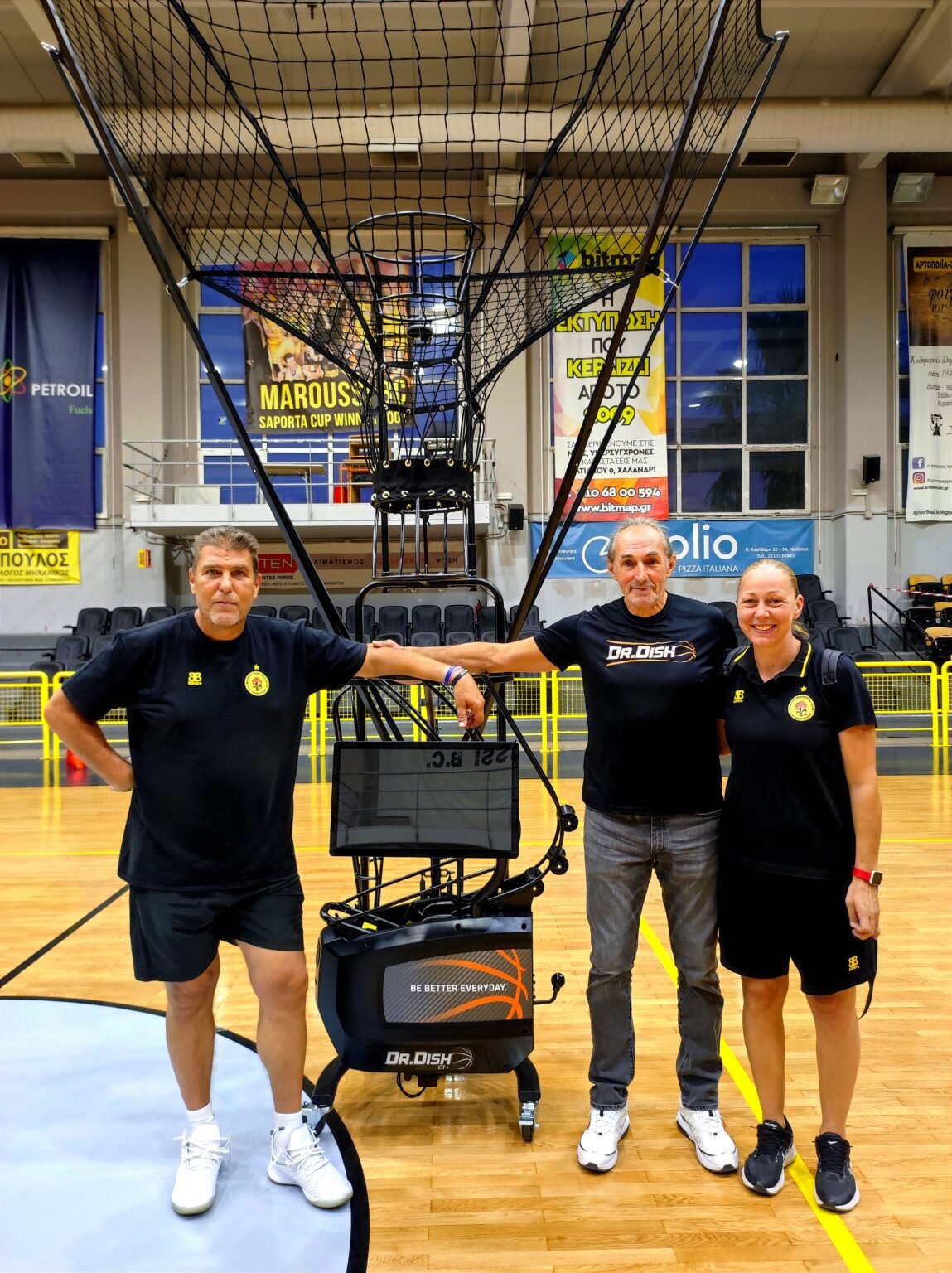 Yiannis Iliopoulos, Vice-President of the EEC, conveyed his delight in witnessing this milestone for GSA. He highlighted the EEC's commitment to supporting EliteLeague clubs and announced further initiatives aimed at fostering the sport's growth.
Giorgos Katsarelias, the Academy's Technical Director, emphasized the positive changes this tool would bring to athletes' training, illustrating the administration's unwavering commitment to coaches' development and infrastructure enhancement.
---
"Our collective goal is to foster an environment where innovation thrives. This acquisition is a testament to that commitment and a promise of even greater strides in the future."
---
The Deputy Mayor, Mrs. Halioti, reiterated the Municipality's dedication to supporting young athletes and congratulated them on their past successes. Mr. Yiannis Nikolarakos, the Vice-Mayor, underscored the rising profile of the Junior team and the Municipality's pride in supporting G.S. Amarousiou.
"Dr. Dish aligns perfectly with our vision of creating opportunities for budding talent in our community,"
Pavlos Xydas, leader of last year's EliteLeague team, highlighted the importance of this "valuable tool" in improving the skills of Infrastructure Department athletes.
This addition to MAROUSSI B.C.'s training arsenal exemplifies the growing commitment throughout Greece and the rest of Europe to revolutionizing basketball training and fostering athlete development. Join us in celebrating this milestone as we continue to push the boundaries of basketball training technology.