14 Fundraising Ideas for your Program
by Chelsea Wiita, on Aug 7, 2018 12:54:00 PM
Everyone has their own way to arrange fundraisers for their team. Everyone has heard of, or participated in selling candy bars or various foods, calling all your friends and family to ask for a donation or other time consuming, low overhead ideas. A lot of people dread that time of year, trying to sell things that people don't really want for a small amount of money. Below is a list of fun, different ideas to help get your team, your fans and those who donate excited about the season.
1. Pay per free throw / three point
I heard this from another rep in the office and thought it was a great idea. You have friends, family, classmates, teachers etc pledge a dollar amount per free throw or 3 point shot made (i.e. Bri pledges to pay $1 per free throw and $2 per three point shot. Chelsea makes 20 free throws and 10 three point shots. Bri has donated $40 to Chelsea's team)

2. Golf tournament
You can gather prizes from local business' to raffle off and have a designated entry fee.

3. Lottery calendar
This idea came from the state of New York. The New York state lottery has a calendar for purchase that gives those who buy it a chance to win everyday!

4. Bowling event - silent auction
Similar to a golf tournament, charge an entry fee and gather prizes from local business' to do a silent auction.

5. Half court shot at halftime of games
Instead of pledging to support a member of the team participants will pay a set dollar amount for their chance to make a shot from half court. If they win they get a prize you decide on and if you can get a local restaurant on bored you can also include coupons for those who participate.
6. Dance off
A fun event for the school and a way to raise money for a sports team.
7. Calendars
Have the team put together a fun calendar and sell to friends and family.

8. Text to give
Set up a text to give link and post it on social media and promote it at games and in the school.

9. Kickball tournament
Another fun way to raise money and get the school or local community involved.

10. 50/50 "split the pot"
This would work best at another team's games. If the basketball team sells 50/50 tickets at the hockey game.

11. March Madness
Create your own March Madness Bracket Challenge.

12. 10,000 step challenge
Similar to the pledge per shot, if a player steps for 10,000 steps they earn a designated amount per day for a set period of time.
13. Cleaning up for cash

Similar to the pledge per shot, but pledge per piece of trash picked up. Helps to clean up the community and raise money.

14. Walk and Paw-a-Thon
Walk-a-thons are a good way to get your fan base involved but why not include your furry friends.
Crowdfunding is also another popular option and Dr. Dish actually has partnered with Online Donations to help lower the fees paid to the company organizing everything, helping you earn more money quicker!
If anyone has any other great and different fundraising ideas please let us know! A lot of kids do not put their all into the fundraising side of the game because they would rather be playing or practicing. If you can get your team to do a FUN-draiser, they money will start flowing.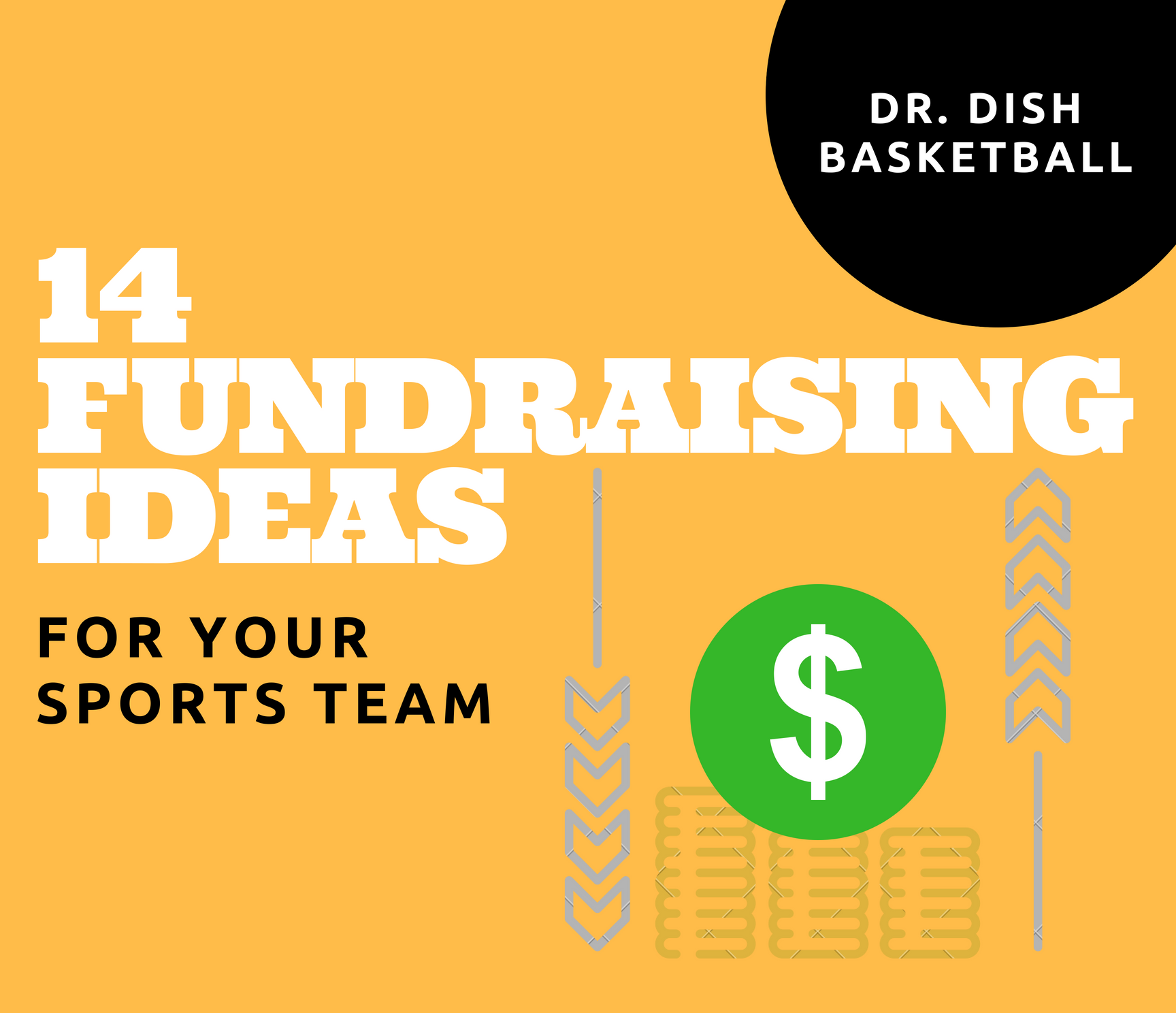 Sources & H/T:
https://blog.fundly.com/fundraising-ideas-for-sports-and-teams/