3 Ways to Attack Pressure Defense on the Catch
by Nick Bartlett, on May 27, 2019 4:31:44 PM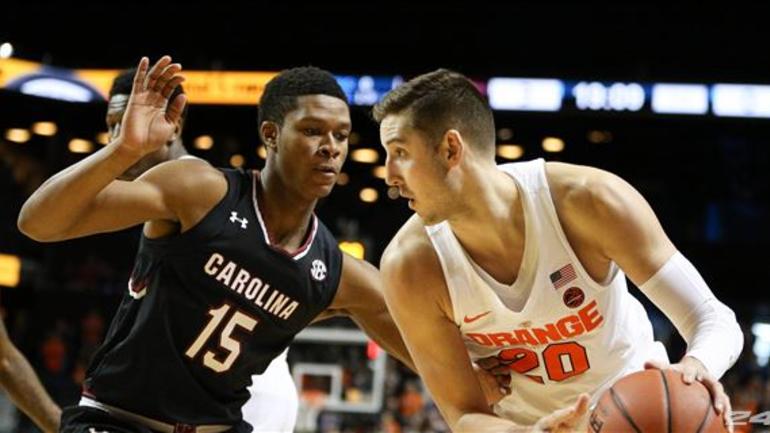 At Dr. Dish Basketball, we're incredibly fortunate to have our own court at our headquarters here in Bloomington, MN. We refer to it as the "Dish Lab."
This is where we do much of our product testing and also create a ton of basketball drills and content using our Dr. Dish shooting machines.
Recently, Coach Jefferson Mason and I had the idea to film a quick series on attacking pressure defense and creating space on the catch. While we didn't have our typical "high level" camera crew (they were busy cutting up some awesome previous footage), we figured this series would be perfect for Instagram/social media.
We grabbed our friend, former college basketball players, and Dr. Dish sales rep, Anthony Brant, to help us out. Check out the full progression below by clicking and swiping through each video:
Points of Emphasis
As you can see, the key is to use the jab step to be aggressive (but NOT too aggressive) to create space. From there you must read the defender and help side defense to either shoot or attack.
1️⃣ Jab, create space, knock down jumper
2️⃣ Jab, create space, high rip, attack one dribble pull up
3️⃣ Jab, quick spin off defender, attack the hoop
The game of basketball is going to be physical! By initiating contact, you often are creating an advantage. The kicker is to make sure you're not SO aggressive that you're called for an offensive foul. This is very subjective so make sure to use at your own risk.
Another key here is PATIENCE. When faced with an over-aggressive defender, it's natural to attack immediately - oftentimes out of control. This is exactly what the defender is trying to create. By staying patient, initiating contact, and reading the defense, it provides a more "controlled" opportunity for an offensive player to attack.
Using the Dr. Dish CT
In this drill series we used the Dr. Dish CT machine away from the basket on the wing to simulate a game location pass. While typical shooting machines are under the basket, we felt this provided a more game-like atmosphere.
The Dr. Dish All-Star and CT models are the ONLY machines in the world with our patented swivel net technology that allows for game location passing anywhere on the court.
This is a perfect drill series to maximize with Dr. Dish. For more individual, partner, small group, and team drills and workouts, make sure to check out this page: https://www.drdishbasketball.com/resources
---
Click here for more info on Dr. Dish basketball shooting machines.
Follow us on social media for daily basketball drills, tips, and inspiration!
https://www.facebook.com/drdishbball
https://www.twitter.com/drdishbball
https://www.instagram.com/drdishbball/