4 Quotes from NBA Legends Celebrating Their Fathers
by Kendra Franck, on Jun 18, 2023 8:00:00 AM
Happy Father's Day to all the #DrDishDads who continue to support and make basketball dreams come true. Being a hooper Dad or father figure is no small task. However, you're always down for extra reps, providing game feedback, and all the hours in the car traveling. This Father's Day check out some of our favorite quotes from basketball legends about their Father's and Fatherhood.
---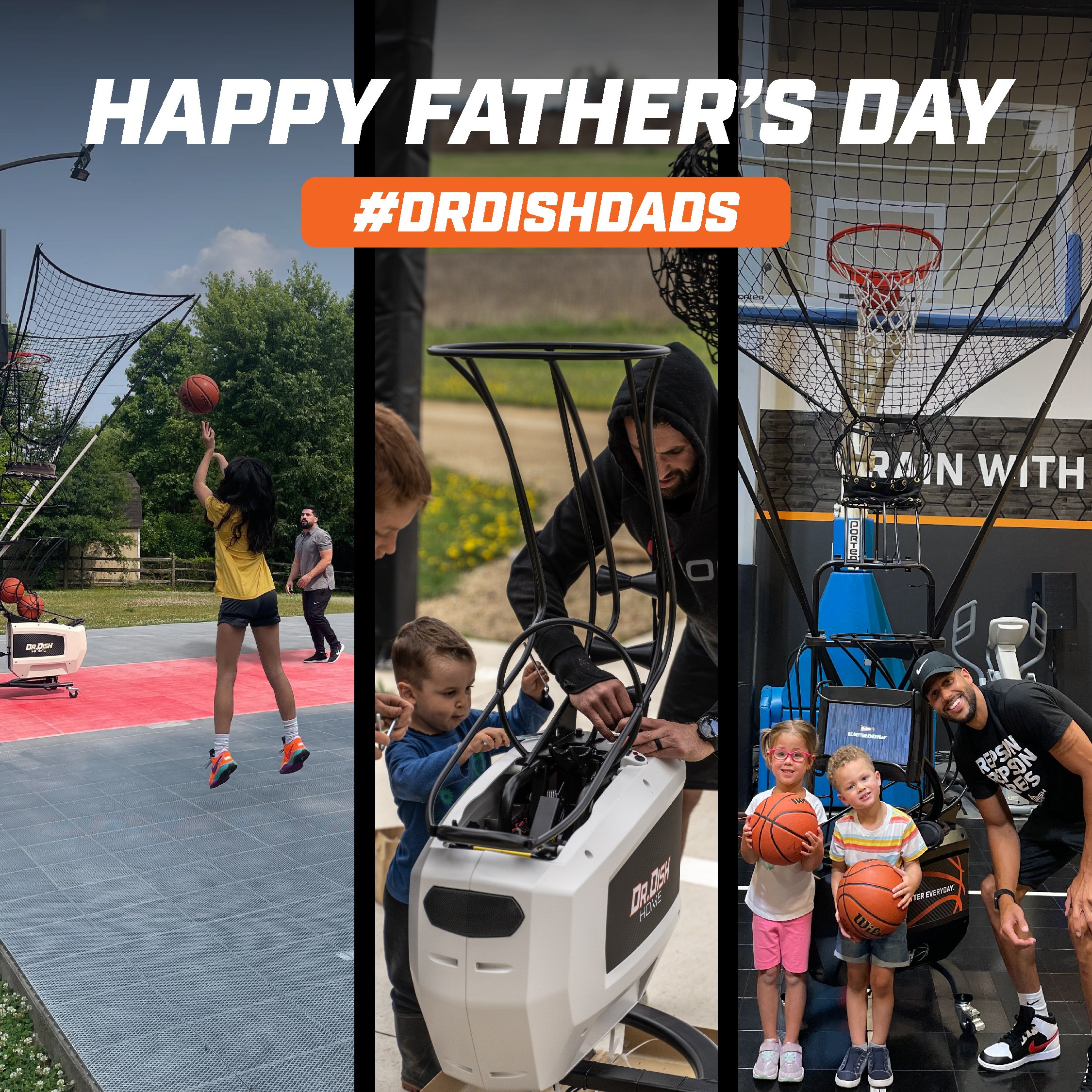 ---
My father gave me the greatest gift anyone could give another person, he believed in me." -Jim Valvano
There is nothing better than having someone believe in you! Jim Valvano played point guard at Rutgers and guided the team to a third-place finish in the NIT before graduating and pursuing a career in coaching. He spent 19 seasons as the Head Coach at John Hopkins, Bucknell, Iona and finally North Carolina State.
When I come home, I'm not a basketball player, but "dad". While everyone sees me as an NBA player, to my kids, I'm just "dad" and that's very important" -Dwayne Wade
Former NBA legend, Dwayne Wade saw fatherhood as his most important job. Giving his all on the court was important but coming home to give 100% as a Dad was just as essential. Dwayne was drafted 5th overall by the Miami heat in 2003, won 3 NBA Championships, Finals MVP in 2006, 13x NBA All-Star and more! Now his son, Zaire is chasing after his own basketball dreams. Watch Zaire train with Dr. Dish in the video below.
My father used to say that it's never too late to do anything you wanted to do and he said, 'you never know what you can accomplish until you try'" -Michael Jordan
Thank goodness Michael Jordan took his Father's advice. Michael Jordan is widely regarded as one of the greatest basketball players of all time. He was known for his competitiveness, athleticism, and scoring prowess. He led the Chicago Bulls to 6 NBA Championships, earned 5 regular-season MVP awards, and is a global icon who pushed the game of basketball forward.
Commitment is a big part of what I am and what I believe. How committed are you to winning? How committed are you to being a good friend? To being trustworthy? To being successful? How committed are you to being a good father, a good teammate, a good role model? There's that moment every morning when you look in the mirror: Are you committed, or are you not?" -LeBron James
LeBron James shows time and time again his commitment to the game of basketball. James has not only been an exceptional role model and father figure to his own children, but his positive influence extends far beyond, inspiring and mentoring countless young basketball players. LeBron is a 4x NBA Champion, 4x NBA Finals MVP, and multiple-time league MVP. His son Bronny James recently committed to USC.
---
Basketball is not just for the kids. Anyone can discover a new way to work out with Dr. Dish. Train at up to 1,200 reps per hour on the fastest setting, improve cardio health, build muscle, and have fun while doing it.