5 Ways to Gain An Edge With Your Basketball Shooting Machine
by Nick Bartlett, on Apr 7, 2016 5:22:32 PM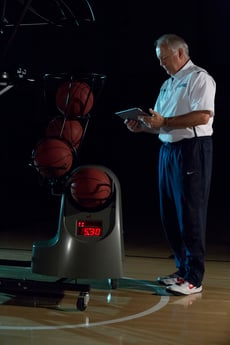 Does your basketball shooting machine help YOU make better decisions to win games?
We all know many games are won or lost by just a handful of points. Besides the obvious (more reps), what are tech-savvy coaches doing to leverage their shooting machines to get more wins?
Fortunately, we get to work with hundreds of coaches across the world and hear their feedback on how they're using their Dr. Dish machines to their fullest potential.
Here are the top 5 ways coaches are getting the edge from their shooting machine:
1. Learn who your best shooters are and from what position on the floor
With Dr. Dish basketball shooting machines, coaches can actually see beyond just the total percentage of each player's workout. You can first see shooting percentage by location real-time on our LCD smart screen during any workout. Also, you can see a detailed heat-map on our Coaches Database after uploading each workout. We've heard great feedback from many coaches that are using this data to make better coaching decisions.
The benefits of this feature is two-fold. First, if you notice a player is specifically strong from an area on the floor while shooting on the Dr. Dish, you can now look at potential ways to capitalize on that strength during games. This may mean running plays for that specific player to catch the ball at his/her hot-spot. Second, if you notice a player struggling from a specific spot on the Dr. Dish, you can have him/her work specifically on getting more reps at that spot to improve and turn that weakness into a strength.
2. Introduce pressure and concentration
Coaches are always looking for ways to increase player concentration and focus. With Dr. Dish machines you can take shooting sessions to the next level by creating workouts that include specific "make" or "streak" challenges. Again, afterwards you can track these workouts over time and set goals to drive accountability.
If you tell a player to "get up 200 shots today", do you think they would be focused and pumped up to get those shots in? Unfortunately, in many cases, they won't be especially motivated. However, if you told a player to shoot until they made 3 shots in a row from 10 different spots around the perimeter, I guarantee they will be more locked in. You can always save each workout so each player can start each
basketball shooting drill
within seconds, too. Coaches are loving this feature on their Dr. Dish machines to add pressure and a compeititve feel to each workout.
3. Put your players in "game spots" with passes coming from game locations
As you likely know, out-dated shooting machines have long been confined to underneath the basket and only fire passes from the same location. We've always stressed the importance of training like you're in the game to best prepare for the actual game. That's why we created the Dr. Dish All-Star which can also serve as a perimater and post passer as well with its swivel net feature.
Coaches are continuing to find out the benefits of their players catching passes from where they receive them during games. It's all about getting game-like reps in and the All-Star is the only machine capable of doing this efficiently. The best part is that each player can do all of these drills by themselves. Check out a few of these game-like drills here!
4. Push game speed by tracking intensity
As mentioned above, game speed is essential during a shooting workout. Making 100 stand-still 3 pointers is great, but how often do you get to shoot a stand-still shot in a game? Not very. That's why we provide a heart-rate tracker with every
Dr. Dish Pro
and
All-Star
we sell. Not only can you track your heart-rate during a workout, but you can now design workouts based around your heart-rate!
Now coaches are correlating shooting % & heart-rate on their Dr. Dish to learn who shoots best when fatigued. They are then assessing recovery time through heart-rate analysis to provide better game substitutions and rest.
5. Put it all together
After gathering all of this data, the final step is putting it all together to make better coaching decisions. With this data from Dr. Dish, coaches can find out who their best shooter is, from what position on the floor, and at the end of the game when fatigued and under pressure. Keep in mind, the best shooter at the end of the game may not be your best shooter at the beginning.
Coaches that are fully utilizing and combining the technology and analytics provided by Dr. Dish machines are discovering that they can now use their basketball shooting machine for much more than just getting up reps. They now have vital information for making crucial coaching decisions in games that could make the difference between winning and losing.
The shooting machines of the future do all of this for you and more! Learn more about the most advanced shooting machines in the world -
Dr. Dish
- and make the leap from training intelligence to game intelligence, and add more "W's".
Need game-like drills for your basketball shooting machine? Click below and see the Dr. Dish in action!