6 Ways Basketball Shooting Machines are Changing with the Times
by Evan Davis, on Aug 12, 2016 2:23:46 PM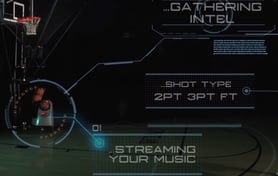 As technology has improved over the years, so have the capabilities of training aids such as basketball shooting machines. Not that long ago, coaches could only train their guards around the perimeter, but now coaches have the ability to move machines away from the basket and work their bigs as well. Below are 6 ways that Dr. Dish Basketball is making sure their basketball shooting machines are changing to adapt to an ever-increasing, technologically connected world and how that can help your players give that extra 10% you're always talking about.
1. They're Fully Programmable
For years there were really only two ways of training shooters with a shooting machine. A player could stand in one spot and fire up hundreds of shots from the same spot, or they could do a variation of an Around the World drill, where they rotated around the perimeter.
With a fully programmable machine, players can do much more than pick the spots on the floor they want the ball thrown to. They can tell the machine to not move to the next spot until they make 5 shots in a row or until they've attempted 20 shots. These features require a shooter to focus on putting in quality attempts and focusing on the fundamentals, rather than throwing the ball at the hoop 100 times and calling it good.
2. No More Spreadsheets (unless you want them)

I don't know about you, but I try not use Excel any more than is necessary. Luckily, with newer shooting machines, you no

longer have to take a USB drive from the machine and plug it into your computer to view the results of your team's sessions. The Dr. Dish Academy replaces the need for USB drive by automatically uploading your results to an online database where all of your players can check their stats, see their hot zones, and compare their results with their teammates to see who is on top of the leaderboard. If you like to keep it old school, you can always export or print the results out to have a hard copy.

Not only does this make it easier on coaches who worry about having to keep track of and update stats in their spreadsheets, it also gives coaches and players more visibility into problem areas and provides a great visual of where players need to focus on getting better.
3. There's an App for That

Along with the online database, Dr. Dish has an app that syncs a smart phone up to the shooting machine via Bluetooth, allowing the shooter to start/pause a workout remotely, as well as keep track of their current workout in real time. This can also be used by a coach to keep track of a specific player's performance in real time as well.

When a player is done with their workout, they can save the results and email them to their coach or text, share, and tweet the results to their friends and followers if they want. There is even a tab that allows players to set personal goals (10,000 shots, 5,000 makes, etc) that they can view in the app and in the database.
4. No headphones or sound system at the gym? No problem.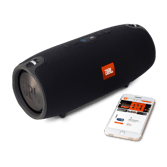 Workouts always seem to go faster when you're blasting good tunes. But not everyone has a sound system in their gym and you can't usually wear headphones in practice. And besides, the quickest way to ruin a pair of headphones is to get drenched in sweat while wearing them.
Dr. Dish gives you the option of installing a JBL Bluetooth Speaker loud enough to rock the gym inside your shooting machine. It's a great way to give your players a little excitement during practice and take their minds off of hard you're working them.
5. Heart Rate Tracker Compatibility
More and more these days you are seeing products that can use a person's heart rate to determine the intensity of a person's workout. The Dr. Dish All Star has the ability to work in tandem with a heart rate tracker to speed up/slow down the tempo of your workout according to the target heart rate you set before the workout starts.
This may be one of the most beneficial features of modern shooting machines because it forces players to work hard. It is one thing to shoot one hundred shots from the same spot in practice. It is another thing entirely to take shots at game speed while needing to make 5 shots in a row to be able to move on to the next phase of your workout.
6. Software Updates for Life
The biggest concern that people have with the "latest and greatest" pieces of technology is that the minute they buy it, it's already obsolete. Dr. Dish realizes this and is updating their software as they go, making sure their machines are always up-to-date. Once you purchase a Dr. Dish machine, you will receive software updates for the life of the machine every time a new version comes out.
The bottom line is this : Basketball shooting machines are becoming a serious training tool for more and more programs and individuals of all ages. In today's day and age, you have the right to expect that the companies producing these machines are continuously innovating and adapting to the increasing advances in technology.
We here at Dr. Dish Basketball are comfortable saying we're up to the challenge.
---
Still wondering if you should go ahead a purchase a shooting machine? Make sure you're asking these questions!