Legacy of Greatness: 8 Kobe Bryant Quotes to Elevate Your Mindset
by Adam Kaul, on Aug 23, 2023 8:30:00 AM
This week, basketball players, coaches, trainers, and fans around the world are celebrating the life and legacy of Kobe Bryant. He changed the game from the moment he stepped on the basketball court as the youngest player to ever start an NBA game to having a dominant 20-year career to inspiring everyone around him to be better every day.
Check out our top 8 Kobe Bryant quotes and use them as motivation as you create your own basketball legacy.
---
Everything negative — pressure, challenges — are all an opportunity for me to rise. "
This quote from the legend goes beyond basketball. People may see pressure and and challenges as something to dwell on, but Kobe encourages you to think of negatives as something to conquer and become a better person by facing them head on.
---
Dedication makes dreams come true."
Many hoopers all across the world have big dreams of playing the sport professionally. But as we know it takes countless hours of hard work to achieve these dreams and goals. This Kobe Bryant quotes helps remind people what it takes to make your dreams come true!
---
My advice is just to focus on each day and have a plan in place of how you want to improve and how you want to get better and you stick to that plan and trust the fact that every day that you stick to the plan it will get you to your end result."
Coming into each day with a plan is great way to ensure productivity and improve as a basketball player and person. While training, players need to breakdown what skill they want to develop and improve going into that workout. Without a plan players may be distracted and not work as hard as they should for the results they want or expect.
---
I saw you come in and I wanted you to know that it doesn't matter how hard you work, that I'm willing to work harder than you.

"
The Mamba Mentality was all about Kobe's hard work and mindset. Going into every workout, practice, and game with the goal to outwork your opponent. Striving to let it be known your work ethic is strong. This mindset will lead you to success on and off the court.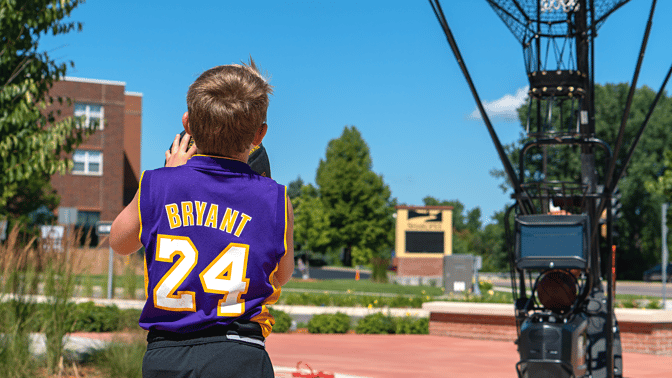 ---
The moment you give up, is the moment you let someone else win."
This quote is the reality of the game basketball, but players must learn to keep pushing in order to reach their goals. Tough times will come up, but facing adversity and never giving up will teach you lessons on and off the court.
---
Torches never get passed. You've got to earn that"
Seniority, time, and connections are all great ways to show your love for the game but ultimately your skillset, and leadership will determine the opportunities you get as a player!
---
We can always kind of be average and do what's normal. I'm not in this to do what's normal"
A huge part of basketball is striving to stick out as an above average player. Separating yourself from the competition with hard work. Often while training, basketball players will not get out of their comfort zone. But in order to become a better basketball player you need to learn new skills and develop skills not in your bag yet!
---
You are responsible for how people remember you—or don't. So don't take it lightly."
Kobe has left a lasting impact on the game of basketball. He was a father, a 5x world champion, a husband, 18x NBA All-Star, 2x Olympic gold medalist, a coach, 2x Finals MVP, 4th NBA all-time scoring list and so much more. Chase your dreams and let your actions reflect the way you want to be remembered.
---