Basketball Coaching Clinics: Brayden Carr Foundation Notes
by Nick Bartlett, on Oct 2, 2016 3:43:49 PM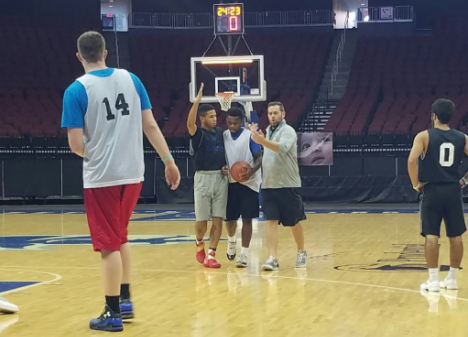 It's always a pleasure for Dr. Dish Basketball to travel around the country to attend some of the best basketball coaching clinics. The 2016 Coaches Clinics put on by the Brayden Carr Foundation in Rhode Island and New Jersey were both incredible events with tremendous speakers sharing their basketball knowledge and expertise.
The Brayden Carr Foundation was established by Jim and Natalie Carr in memory of their son, Brayden. Through these basketball coaching clinics, they are able to raise thousands of dollars for the Foundation where 100% of the proceeds go directly into the scholarship fund to help put smiles on many kids' faces. To learn more about the Foundation and to donate, click here.
It was also great to have our Dr. Dish Basketball Shooting Machines on the court during each clinic to showcase our unique training capabilties. The crowd and players also really enjoyed the integrated speaker on the machines.
Rhode Island Clinic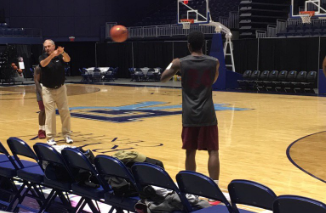 This was the first year that the Foundation put on two clinics on back to back Fridays. The first basketball coaching clinic was hosted at the University of Rhode Island on September 16th.
For a first year clinic, the list of speakers was very impressive.
Danny Hurley is the current Head Coach at the University of Rhode Island and son of legendary high school coach Bob Hurley. It was great listening to him on his home court as he obviously has a ton of experience as a great player, coach, and son of a coaching legend.
Jim Calhoun is also a basketball coaching legend himself and is enshrined in the Naismith Hall of Fame as a 3-time National Champion. It was especially fun listening to his fundamentals of running a successful fastbreak.
Brad Stevens is one of the current coaching greats in the NBA as he's revitizaled the Boston Celtics organization. Prior to that, he of course led mid-major Butler University to back-to-back National Championship games. It was a treat listening to how he's built such a great culture and how that's translated into wins everywhere he's gone.
James Jones is also on his way to becoming a coaching great at Yale University. Not only did he lead Yale to its first NCAA tournament appearance in over 50 years last year, but they won their first round game against Baylor. He did a wonderful job teaching defensive rebounding drills at the clinic that have helped his program become successful.
New Jersey Clinic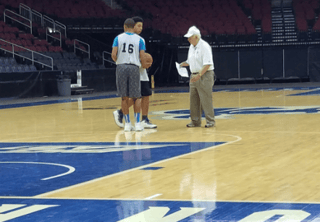 While this wasn't the first clinic in New Jersey for the Foundation, it was the first time it was hosted at the Prudential Center which was a great venue. The event was held on following Friday, September 23rd and the speaker list was equally as impressive as the Rhode Island Clinic.
The new Oklahoma State Coach, Brad Underwood, kicked things off. He did an incredible job building the program at Stephen F. Austin through his hard-nosed style on both offense and defense. He really emphasized the importance of details within offense such as hard cuts and the importance of having a plan and being disciplined on defense.
Next was Gregg Marshall, the very successful Coach at Wichita State. He also talked about many of the little things that has helped him build such a great program like hard closeouts and always holding his players accountable.
Kevin Boyle, the legendary high school coach currently at Montverde Academy was next up. He emphasized basic fundamentals that many coaches overlook like catching, passing, and pivoting. While they may seem very elementary, it's incredible how many high school and even college players have a hard time with these fundamentals that lead to countless turnovers.
Pete Carril may be the most legendary coach of everyone on this list. The innovator of the Princeton offense is now 86 years young and was an absolute blast to listen to as he broke down many of the secrets of his revolutionary system. But more than anything, his story-telling and humor had everyone watching laugh multiple times while also learning a ton.
Rounding out the incredible list was Coach Steve Masiello who has done a tremendous job building the Manhattan College program winning multiple Conference Championships and NCAA Tournament Appearances. He went through multiple offensive and defensive drills and did a great job tying them back to how they translate to game situations.
We'd like to thank Jim and Natalie Carr for putting together these great basketball coaching clinics and allowing Dr. Dish Basketball to be a part of both of them. We look forward to being a part of the clinics again in 2017 and highly recommend them to any basketball coach looking to expand their knowledge and career.
Again, for more information on the Brayden Carr Foundation and to donate, please visit their website here.
---
Want a Dr. Dish shooting machine but don't think you can afford it? Click below!