Basketball Coaching Clinics: Pure Sweat Basketball Notes
by Nick Bartlett, on Nov 3, 2016 2:53:29 PM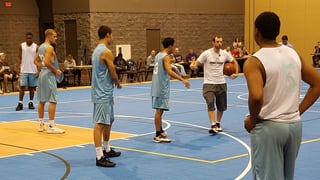 It's always a treat for us at Dr. Dish Basketball to attend some of the best basketball coaching clinics around the nation to learn from some of the brightest basketball minds. It was definitely a great experience for us to head down to Branson, Missouri on October 20-21st, 2016 for the annual Pure Sweat Basketball Coaching Clinic hosted by NBA Skills Trainer, Drew Hanlen. As partners with Pure Sweat Basketball, we were able to see once again why Drew Hanlen is one of the top basketball trainers in the world.
We brought one of our Dr. Dish All-Star machines to the clinic and had it in action much of the time with the college teams that were on the court demonstrating the drills. They especially loved the integrated JBL speaker that was blasting tunes while they warmed up!
Day 1
The first day of the clinic was on Thursday October 20th from 1-9pm and was jam packed with basketball instruction. Drew is an incredible teacher and really broke down many details and provided a ton of basketball drills for the coaches and trainers in attendance. These were some of our favorite points of Day 1:
Drew started with Team Toughness Drills and talked about how his high school coach, Jay Blossom, was a huge proponent of toughness in their program. Their motto was "TTW" or "Toughest Team Wins". Drew demonstrated a ton of toughness drills that favored players and teams that worked the hardest.
Next, Drew went over Transition Drills that emphaszied sprinting the floor. These were great drills that incorporated conditioning and proper spacing.
The next topic was Decision Making which was very interesting. Drew talked about how most coaches and trainers focus on shooting, passing, ball handling, rebounding, etc. But there's such little emphasis on decision making. Many of the drills he demonstrated put the defense in disadvantaged positions and forced the offensive player/ball handler to make a quick decision.
Drew then went through a great session dedicated to Shooting Mechanics. This was especially fascinating because he's done a number of advanced studies based on game shots. The number one thing that he found was balance effects the result of the shot. He mirrored much of the 3 Cs that we emphasize here at Dr. Dish and the importance of getting game-like shots in training and practice to properly prepare for game conditions.
After dinner, Drew addressed NBA Offensive Concepts that can be used at any level. Since Drew works directly with many NBA players, he's very in tune with many of the trends in the game. Many of the actions he went over revolved around misdirection, spacing, and forcing the defense to pick their poison in either giving up a look at the rim or an open three pointer from a shooter.
Last, Drew went over NBA Defensive Concepts. One of the things I thought was interesting was how he mentioned that typically it takes 5 years for NBA concepts to trickle down to the NCAA and then another 5 years for them to trickle down to high school. Drew talked a lot about ICEing or DOWNing the ball screen and how that's just now reaching the high school game even though it was prevalent in the NBA nearly 10 years ago.
Coaches Social: At the end of the night, most of the attendees went over to Charlie's Steak Ribs and Ale to network and ask Drew more questions in a face-to-face setting. While instruction is always the focus at basketball coaching clinics, these are the types of events that allow coaches to meet other coaches, connect on a personal level, and share ideas.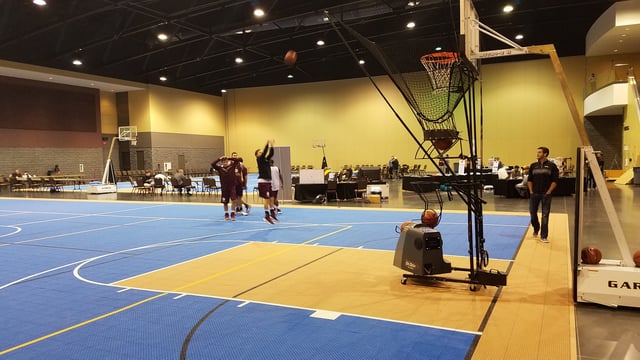 Day 2
After a quick night of sleep, we were back at it bright and early on Friday, October 21st to continue learning from Drew! Day 2 wasn't as long as Day 1, but Drew made sure to fill it with plenty of basketball knowledge. Here were a few of our notes:
The first session was based around Defensive and Rebounding Drills. Much like the Toughness Drills from Day 1, Drew went through a ton of great drills that had the demonstrating players battling very hard for rebounds. He also went through a series of great defensive drills that focused on rotations and communication.
Next, Drew went through a Guard/Wing Workout that had the demonstrating guards struggling through some tough drills. Drew referenced a great story from Kevin McHale where he emphasized that you can't give players too many things on their mind. Simplify their options and decisions based on what the defense does. Once Drew explained this, the players seemed to catch on much quicker.
Drew then went through a great Post Workout. Much like the Guard/Wing Workout, Drew went through a series of post up series moves and broke down the details of how and when to use each move. He referenced working with Joel Embiid this past summer and giving Joel a ton of new moves to use. But the biggest emphasis needs to be how and WHEN to use each drill.
Next, Drew went through Competitive Shooting Drills and showed how to get a ton of game-like shots. Again this is always a huge emphasis we stress here at Dr. Dish Basketball too! At the end Drew even used our Dr. Dish All-Star to demonstrate some game-like drills coaches and trainers can use with our equipment.
Last, Drew went through a Q&A Series where he had coaches write down every question they had on a notecard. He answered EVERY single one. I thought this a great idea and not anything I've seen before.
Again, we had a blast at the clinic and were able to connect with a bunch of coaches who learned a ton throughout the two days. Many of the coaches were also fascinated by the Dr. Dish and our unique training capabilities. For more info on each of our models, click here.
We also look forward to continue creating more content with Drew and our partners at Pure Sweat Basketball!
*Many of Drew's teaching points and drills from the clinic are available in the Pure Sweat Shop.
---
Check out Drew Hanlen's breakdown on attacking Ball Screens below!