How a Virginia Coach is Cultivating a Winning Culture With Dr. Dish
by Nick Bartlett, on Oct 25, 2016 11:37:00 AM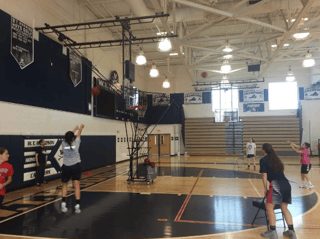 At Dr. Dish Basketball, we always stress the importance of hard work and training with purpose to every player looking to improve. But this mantra also applies to basketball coaching as well!
I was very fortunate to catch up with Aseem Rastogi, a basketball coach who embodies our values here at Dr. Dish. Aseem is currently the Head Girls Basketball Coach at W.T. Woodson High School in Virginia. As a new Head Coach, Coach Rastogi immediately sought to cultivate a winning culture and is constantly looking for innovative ways to improve. As he stated:
"I'm always looking to push things further and provide my team with the best instruction and resources to gain a competitive edge."
Embracing Technology
When Coach Rastogi looked at the current basketball training equipment in his program, he noticed an old broken down shooting machine and knew it was time to convince the school to trade that machine in for a new high-tech Dr. Dish machine.
"We had a competitor's machine and were definitely in need of an upgrade. The Dr. Dish was an immediate hit when we rolled it into the gym. I still have my own players AND boys players texting and tweeting at me if I can open the gym up for them so they can get extra reps because they love the machine," Coach Rastogi said.
There is actually no such thing as off-season at W.T. Woodson in Coach Rastogi's program. It's called Improvement Season.
"Dr. Dish was instrumental in our Improvement Season workouts this past summer. The accountability factor that the machine provides with the mobile app and database allows me to track progress as a team and it actually makes it more fun for our players as well. With specific goals we can set on the Dr. Dish, it adds an element of excitement."
Train with Purpose
We're always preaching the importance of taking game shots from game spots at game speed regardless if you're using our shooting machines or not. Thankfully Coach Rastogi is right on board with us as well!
"Every drill we do on the Dr. Dish is simulating a game action that we plan to implement in our offense."
Coach Aseem also referenced that he's already seen improvement in summer and fall league games with his hardest workers.
"I have one player that came to every single Improvement Season workout and her hard work is already paying dividends. She's scoring in practice and during games and it's all stuff from our Dr. Dish drills. There are times where she comes off a pin-down or a dribble hand off and scores with ease. It's a direct correlation to what we've worked on with the Dr. Dish."
Focus on "Little Things"
One thing Coach Rastogi really stressed during our conversation was how Dr. Dish now allows him to be much more detail oriented in terms of teaching "little things." By little things, we of course mean details that make a BIG difference - footwork, angles of cuts, mechanics, etc.
"The real beauty of the Dr. Dish is that I'm no longer chasing rebounds and neither are my players. This allows me to be fully engaged in coaching. As a result, I'm already seeing more confidence, improved mechanics, and the game is 'slowing down' for the girls. I liken the Dr. Dish to oxygen - you don't realize how vital it is until you're without it!"
Read Coach Rastogi's Full Dr. Dish Review here
Ultimately, at Dr. Dish, we're all about providing coaches, players, and programs an extra competitive edge through our versatility and technology in our machines. Coach Rastogi ended by saying:
"There's no doubt that Dr. Dish has already allowed our program to grow faster. I'm looking forward to continuing to push the boundaries of our machine and see how much more we can improve throughout this season and beyond."
---
Need Dr. Dish shooting drills? Here is Coach Aseem's drill library courtesy of our partners at FastModel Sports!