Basketball Drills: Dr. Dish Drill of the Week - Handling, Finishing & Conditioning
by Evan Davis, on Sep 23, 2016 3:55:25 PM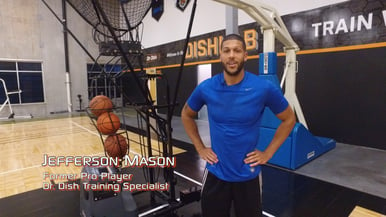 Coach Mason is back in the #DishLab to bring you our second Dr. Dish Drill of the Week!
Since tryouts and training camps are quickly approaching, the main focus of this week's drill is geared towards working on your all-around game with emphasis on ball handling, finishing at the rim, and conditioning.
Keep reading below to see all three segments broken down in detail. and scroll to the bottom of the page to watch Coach Mason demonstrate.
Dr. Dish Drill of the Week: Ball Handling, Finishing & Conditioning
Segment 1: Ball Handling
This drill begins with the Dr. Dish All-Star at the top of the key. Many basketball drills require another person to be present, but you can do this by yourself with the Dr. Dish All-Star.
When the Dish passes you the ball, start pounding the basketball as hard as you can while maintaining control of your dribble. Not only does this work on your handling, but also your conditioning, as you are driving the basketball into the ground as hard as you can. After a few seconds, the Dish will pass you a second ball. While dribbling, catch the ball and start dribbling both balls at the same time. Toss one ball back to the Dish a few seconds later and get ready to repeat this step one more time. Once that is done, one more ball will passed to you. Take one dribble, cut to the rim and work on your finishing moves.
Segment 2: Finishing Moves
One of the easiest ways to make the team if you're on bubble is to prove to the coaches that you can consistently finish at the rim. In this drill, you can work on many different moves, but the ones Coach Mason suggests is your Power Layup/Dunk, a Eurostep, and a Floater. These three moves allow you to practice a wide range of moves at the rim and can give you an edge over some of your teammates if you can execute these properly. If you are just beginning, or cannot perform some of these moves, a regular layup is fine too. Just remember that the most important part is to go full speed and get quality attempts in.
Segment 3: Conditioning
While being able to finish at the rim is very important for being able to make the team, your overall conditioning level an even more important role. It doesn't matter how many shots you can make if you're just catching and shooting. What matters most is how well you shoot when your heart rate is elevated and you are in the middle of a game.
The best way to get the most out of this drill is to continue to go as hard as you can for three rotations. The Dish will give you 4 balls on the left wing and 4 balls on the right wing. That counts as one rotation. Do this two more times on each side, take a minute rest and begin again until you cant keep up with the Dish.
Challenge yourself to see how many times you can go through this drill, and by the time tryouts start, you'll be ready to claim that spot on the team that you've worked hard for!
This is a great basketball drill that incorporates much more than just catching and shooting. The best part is that ANYONE can work on this drill by themselves with the help of the Dr. Dish All-Star shooting machine as we're able to bring it away from the basket to throw true game-like passes.
If you like this basketball drill, you'll definitely want to subscribe for more as Coach Mason has much more content coming!
---
Want a Dr. Dish basketball shooting machine but don't know how to afford it? Check out how Western High School made it happen with smart fund raising!