Basketball Drills: Elbow Progression with Pat the Roc
by Nick Bartlett, on Sep 3, 2019 9:19:25 AM
In this complete workout on the Dr. Dish CT in the Dish Lab, our partner and basketball icon, Pat the Roc, demonstrates a great progression focused on scoring from the elbow.
In this workout, Pat uses the Dr. Dish away from the basket at the top of the key to simulate where he'd receive the pass from in a game. From there, he always reverse pivots off of his left foot as he's right handed (we would recommend pivoting off your right foot if you're left handed).
With each progression it's important to sell the fake with an athletic and convincing jab step. Stay low and wide to be most explosive and cover the most ground. Pat then finishes the workout with a great ball handling and footwork drill.
As always, our #1 goal is to build COMPLETE players that can shoot, handle the ball, have proper footwork, etc.
Give this a try!
Like this workout? Check out this Footwork Shooting Drill!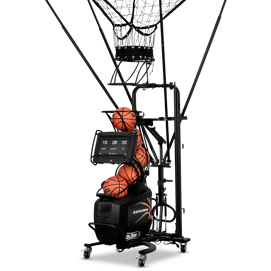 Click here for more info on Dr. Dish basketball shooting machines.
For more drills and workouts using Dr. Dish, click here: https://www.drdishbasketball.com/resources
Follow us on social media for daily basketball drills, tips, and inspiration!
https://www.facebook.com/drdishbball
https://www.twitter.com/drdishbball