Basketball Drills: Pin Downs and Post Ups with Coach Tony Miller
by Tony Miller, on Aug 26, 2023 10:30:00 AM
Coach Tony Miller is always coming up with creative ways to use Dr. Dish machines. Try this Pin Downs and Post Ups drill to work on actions for every position 1-5. Using the dish as a passer to get quick and efficient reps. Checkout the full drill breakdown below!
---
Pin Downs and Post Ups
As I plan my small group workouts, I always try to create shooting drills that generate as many game-like shots as possible in a short amount of time. Two skills that are required for our players is shooting off pin down screens (for the guards) and deep post-ups with finishing at the front of the rim (for our big men).
---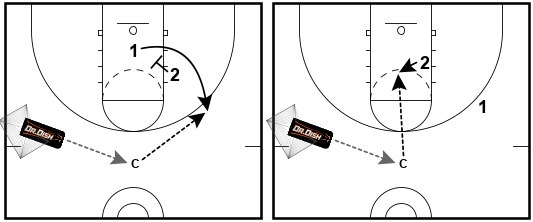 The guard begins underneath the basket, while the big man starts several steps off the block towards the wing.
The Dish passes to the coach who is located at the top of the key.
On the pass, the big man sets a pin down for the guard. The guard sprints out towards the wing to receive a pass from the coach and shoot from 3, while the big man starts to move to the middle of the lane for a deep post-up.
The Dish passes another ball to the coach who then throws the ball inside to the big man.

---
Championship teams are built in the summer, Do you want your team to take the next step? Click the link below to download the Small-Sided Games book with Coach Tony Miller for FREE!
---