Basketball Drills: Post Sequence Drill with Coach Tony Miller
by Tony Miller, on Apr 27, 2022 2:00:00 PM
In this Dr. Dish drill, Coach Tony Miller focuses on 3 simple post options with the Dish located away from the basket on the wing. Check out the full breakdown in the video below!
---
Tony showcases a unique way to use any of our models with post training in this drill. When working with our Dr. Dish CT model, users can utilize our patented swivel net feature for optimal post training.
Post Sequence
Something that's great about the Dr. Dish Shooting Machine is the flexibility to use the device as more than just a shot rebounder. Even post players can benefit from the passing capabilities of the Dish.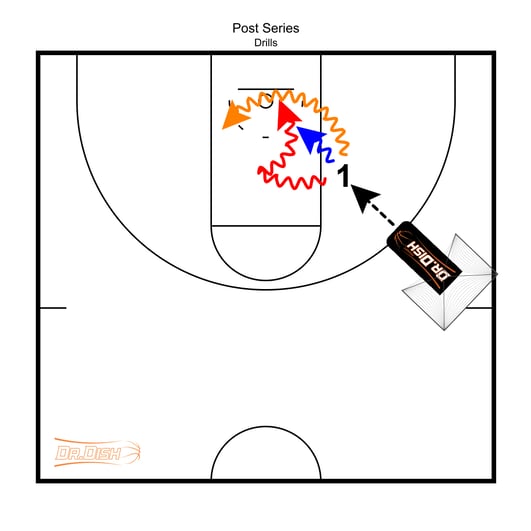 For this drill, place the Dr. Dish on the wing, behind the three-point line. Begin with the player on the block, facing the Dish. The player will receive three passes:

Orange: Catch, reverse pivot, rip through, finish with a reverse layup
Red: Catch, front pivot, middle drive, spin, finish
Blue: Catch, back down, finish at the rim

To improve your effectiveness around the basket, move the Dish to any of the 5 perimeter spots (corners, wings, top) and get creative with post moves and finishing moves.

---

Want more from Tony Miller? Check out his podcast, A Quick Timeout as well as his twitter/social media @tonywmiller. We're so grateful to have him on our Dr. Dish team! Check out his other Dr. Dish Basketball Drills here.