Basketball Shooting Drills - Dr. Dish Full Court Shooting
by Nick Bartlett, on Jan 29, 2016 11:44:33 AM
Dr. Dish Full Court Shooting was originally posted on FastModel Sports
Together with our great partners at FastModel Sports, we've created The Dr. Dish Shooting Drill Book, which includes 30 drills ready to implement with your team today! The playbook includes spot shooting, team shooting, post work, offense specific shooting, and full court drills.
You can also draw up your own basketball shooting drills on FastDraw. If you don't have FastDraw yet, get it today here!
Below is an example of a couple full court shooting drills in The Dr. Dish Shooting Drill Book.
---
Using Dr. Dish to throw outlet passes and rebound transition 3s, these shooting drills maximize quality repetitions within a limited practice time.
Here are two Full Court Basketball Shooting Drills you can use with Dr. Dish.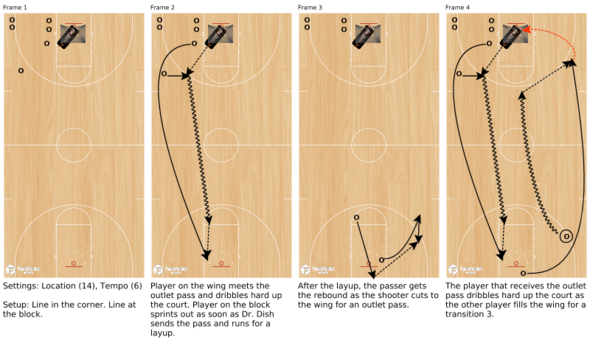 These are great shooting drills to get players moving and incorporates passing, dribbling, layups, shooting on the move, and conditioning.
Many coaches believe that basketball shooting machines are only for off-season training and don't use them often during practice. However, using the Dr. Dish enhances your basketball shooting drills in practice and allows any program to get up more shots in less time. This frees up more time to spend on your game-plan!
To implement all 30 Drills in practices and off-season training, download the Dr. Dish Drill Book now!