Basketball Shooting Drills: Hammer Shooting With Dr. Dish
by Nick Bartlett, on Feb 3, 2016 5:01:21 PM
Be sure to check out Bball Breakdown and subscribe to their YouTube Channel!
As we've mentioned before, many think that basketball shooting machines are only for off-season training. But, it's critical to make sure that every player is getting plenty of repetitions during the season as well with basketball shooting drills.
Even more importantly, it's essential that players are getting up game-like shots, too!
Check out the video below with Coach Nick from Bball Breakdown for how you can work on "Hammer Shooting" and incorporate the action in your offense.
Whether it's a designed play in your offense or just an action for each time one of your player's drive to the baseline, the Hammer Action is a great option to get open corner jump shots.
It's very important to make sure players understand that if one of their teammates attacks towards the baseline, the opposite side wing needs to rotate to the corner to give the driver an easy kick out option. Once the ball handler has confidence that his teammate will be there ready to receive the pass, the play becomes that much more dangerous.
Thanks to our awesome partners over at FastModel, here's how the drill looks on FastDraw: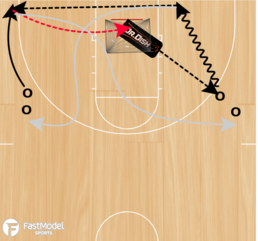 For complete details on the settings of this basketball shooting drill: click here.
So if you're a coach, this is an action that should be in your offense. And if it's in your offense, it should be practiced! With Dr. Dish Basketball Shooting Machines you can get hundreds of Hammer Shooting reps up in minutes! Even if you don't have a shooting machine, you can use these basketball drills to improve your shooting.
Like these drills? Then you'll like these Dr. Dish Full Court Basketball Shooting Drills!