Basketball Shooting Drills: Kyrie Irving Reaction Drills with Coach Collin
by Nick Bartlett, on Sep 9, 2016 5:27:05 PM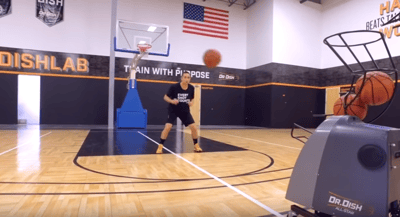 We were very fortunate to have Coach Collin from Shot Mechanics come by our brand new Dish Lab facility to shoot some great videos and basketball shooting drills! If you haven't checked out Shot Mechanics, you'll definitely want to subscribe to their YouTube channel for great tips, drills, and content.
In this video, Coach Collin goes over 3 awesome Kyrie Iriving Reaction Drills. As we all know, Kyrie Irving has incredibly sick handles and a great jump shot. But much of what makes him so great is his body control and footwork. As Coach Collin says, "Kyrie is one of the best when it comes to hitting shots out of the quick catch or pull-up situation."
Check out these awesome basketball shooting drills out of the 180 degree hop below:
Drill #1: 180 Hop Drill
In the first drill, Coach Collin receives passes at around the free throw line over the top of each shoulder. In one motion, he catches the ball and hops 180 degrees simulataneously and goes right into a jumpshot.
While it may seem like a fairly simple drill, the attention to detail is extremely important. As he mentions, "The key here is you always want to load your hips as soon as you possibly can." This is critical to getting an edge on the defender. It takes too much time if you catch with high hips and then have to reload. This allows the defender to have an extra split second to get set and contest the shot.
The other key point is to get your eyes on the rim as soon as possible. This allows you to be able to have maximum amount of time to focus on the target and get your aim on point. These may be detailed points, but they make all the difference in terms of getting better.
Drill #2: 180 Jab Drill
This drill starts the exact same way where Coach Collin receives passes over the top of each shoulder. While he performs the same 180 Hop, this time he goes immediately into a jab step towards the basket to get the defender on their heels. Again, it's essential to load your hips on the catch and stay low as you perform the jab step.
It's also most effective if you're able to catch and jab all in one motion to get the defender off balance rather than catching, pausing, and then jabbing. The earlier you can get you defender moving, the better chance you'll be able to create space and get an open look.
Drill #3: 180 Cross Drill
Once again, this drill starts the same with a 180 Hop. In this drill, Coach Collin jabs to the side instead of towards the hoop. This allows him to set up a quick crossover dribble to create space and knock down a jumper.
The key again is to stay low throughout the jab and really sell it to force the defender to slide towards the jab step. This way you can push off the outside leg and crossover hard towards the middle of the floor. This is an extremely difficult action to guard because of how much ground you can cover while being explosive. You can work on a ton of different actions after the crossover as well whether that is going right into a jumpshot, step back, or attacking the basket.
These are all great basketball shooting drills to work on with the Dr. Dish All-Star to improve your reactionary timing and footwork. And remember, the All-Star is the only shooting machine on the market designed to be brought away from the basket for game location passing!
Stay tuned for more great basketball drills coming from Coach Collin featuring the Dr. Dish All-Star machine!
---
Thinking about purchasing a basketball shooting machine? Make sure you ask these 5 questions first!