Basketball Shooting Drills: Skills and Drills - Circle Move Team Shooting
by Nick Bartlett, on Sep 2, 2016 9:00:39 AM
"Skills and Drills - Circle Move Team Shooting" by Aseem Rastogi was originally published by FastModel Sports.
This basketball shooting drill focuses on the Read and React Circle Movement using the Dr. Dish shooting machine. Anywhere from 4 players to your entire team can use this drill to simulate game like conditions and drill habits without the hassle and chaos of rebounding multiple balls. This drill is great if you have limited space, time, or just want something different.
---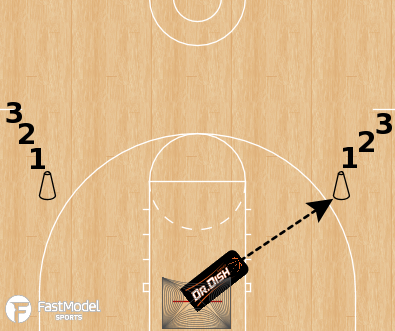 Location: 5 and 15
Tempo: 3
Number of balls: 2
Two lines, one on each wing.
Use chairs instead of cones, or use tall cones. Only to keep a spot and give players a physical barrier to hold on to. They must keep their hand on the chair/cone until it is time to move.
---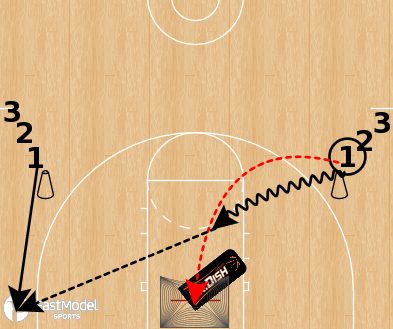 Player 1 shoots the first pass from the dish from 3.
On second pass from Dish, player 1 shot fakes, c-rips, and drives into the lane as if they are attacking the basket.
On the drive, Player 1 in the opposite line circle moves to the corner and receives a pass from 1 for a three or a 1 dribble pullup
---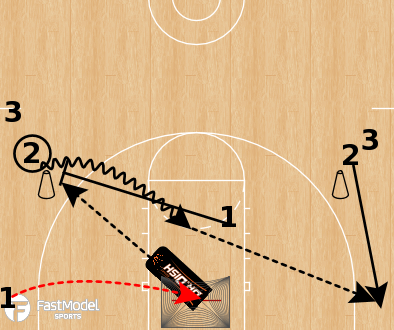 While the action from the initial side is happening, the Dish will rotate and fire a ball to the 2nd player in line on the opposite wing. They will shoot the first ball, and then drive the second one to pass for a circle move jumper.
Previous shooter will circle move to the end of the other line behind the Dish ON THE NEXT DRIVE from the opposite side!
Addition for defense: initial passer who is in the lane can move to close out the next driver.
---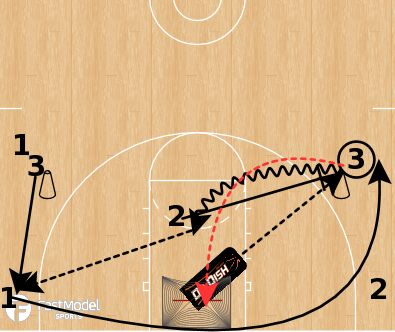 Drill continues to the other side. Next player in wing line receives the first pass from the dish and shoots it for 3.
Previous driver in the lane closes out on second ball, shooter drives and pitches to the corner fill from opposite wing.
You can always utilize the Dr. Dish shooting machine to maximize your efficiency with all of your basketball shooting drills!
---
For more information about the most advanced basketball shooting machine in the world, check out Dr. Dish HERE.
For a full playbook of Dr. Dish Shooting Drills – Click HERE