Basketball Shooting Drills: Turn Everyday Training into "Smart Training"
by Nick Bartlett, on May 6, 2016 11:40:46 AM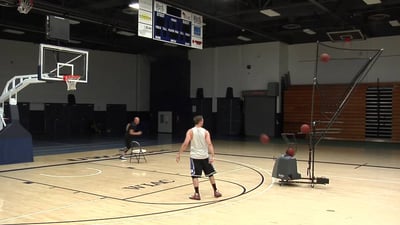 As a former college basketball player, I know I've been guilty of this and you or your players probably have too: Casual Shooting.
Too many times I would go to the gym with the intention of putting in an intense workout with specific basketball shooting drills. However, after 5-10 minutes of hard work, I would shoot casually for the next 30-45 minutes and call it quits.
Did I get better? Maybe. Did I train smart? Absolutely not.
That's why at Dr. Dish Basketball we stress the importance of:
1. Using analytics to help you train smarter
2. Working at game speed
3. Working out with a PURPOSE
4. Working on game situation shots
Use Analytics to Train Smarter
Everyday training: Player shoots randomly for 30-60 minutes and hopefully gets up a couple hundred shots. You're not sure how many they've shot exactly or where the majority of the shots were from. Also, most of the player's energy was used on chasing down rebounds rather than actually focusing on shooting.
Smart training: With Dr. Dish Basketball Shooting Machines, not only will players spend much more time focusing on shooting than chasing rebounds, they will be able to track each and every shot and where they come from. For example, you can look at your heat map after 5 workouts and see that your left side baseline shooting percentage is 30% while your average shooting percentage is 50%. This data is a game changer and can allow players to train their weak areas and turn them into strenghts.
This is just one application of the analytics that Dr. Dish can provide. As the game evolves, your training methods should as well. Analytics are widely used for game applications, but why not practice and training applications? Dr. Dish takes analytics to the next level to help train smarter.
Work at Game Speed
Everyday training: Players warm up taking random shots around the perimeter. Maybe they start taking a few dribble pull-ups, and spin the ball to themselves to attempt to simulate a pass. While they may try to work at game speed and simulate game-like conditions there's no accountability piece to force them to push themselves.
Smart training: Players use the heart rate strap provided with every Dr. Dish Smart Series Basketball Shooting Machine. After they sync it to the machine, both themselves and coaches can track their intensity throughout the workout. Even better, they can program the machine to rotate based on the player's heart rate. If a player is working casually it will reflect with their heart rate. The Dr. Dish will recognize this and begin to speed up the tempo forcing the player to move at game speed (70-80% of their max heart rate). Once the player gets to game speed, the machine will settle in on the tempo or begin slowing down.
Again, the increased number of reps is undoubtedly very valuable. However, making sure those reps are all genuinely at game speed takes every day training to the next level.
Work with a PURPOSE
Everyday training: Players go to the gym and start shooting with no purpose. Maybe they have specific basketball shooting drills they'd like to perform, but rarely do players actually count their makes/attempts/or specific streaks while chasing down their rebounds every time. After 30-60 minutes, most players feel like they've put in enough time and leave the gym. Many times no specific goal was set or hit.
Smart training: Players login to the Dr. Dish and select one of three types of goals: Makes, Attempts, Time. This holds players accountable and forces them to reach a goal before they give up on a workout. For example, a player must ATTEMPT 400 shots, or 200 MAKES, or 30 minutes before the machine stops. There's also a bonus capability to program "Streak Mode" into the machine. For example this forces players to make 3 shots IN A ROW before moving to the next spot on the perimeter.
To take it to the next level, you can layer the heart rate setting with the goal setting feature to force players to reach specific goals while playeing at game speed!
Work on game situation shots
Everyday training: As mentioned above, many of the shots players take during training are not at game speed and likely aren't game-like. Even if they are using a basketball shooting machine, the passes they receive are always coming from under the hoop...unless they're using the Dr. Dish All-Star. And let's be honest, how often does a player actually catch the ball from under the hoop in a game situation?
Smart training: With the Dr. Dish All-Star, players can receive passes where they actually receive them in games. This allows for nearly unlimited training options. One of the most widely used applications for this is post-training. With typical shooting machines, post players are unable to work on their finishing moves due to the net blocking the hoop. Also, the All-Star works great for training guards and wings. You can put the Dr. Dish on the top of the key and simulate down screens, flare screens, curl cuts, etc.
These game-like passes take every day training to the next level. With so many games decided by 5 points or less, the application of the All-Star could literally be the difference between winning and losing in some situations.
There's no doubt the game has evolved. But many programs and coaches are still utilizing out-dated training methods. With Dr. Dish, you can turn your every day training into smart training and accelerate your player development faster than ever!
Need game-like basketball shooting drills to go with your shooting machine? Check these out!