Basketball Shooting Machines and 3 Factors of "Flow"
by Adam Pan, on Jan 26, 2016 12:38:19 PM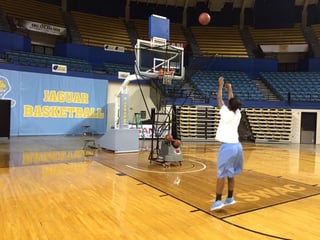 Of all the reasons to get a basketball shooting machine, one of the most beneficial is its ability to access a player's flow. The theory of flow or being "in the zone" has been around for hundreds of years. It has gone largely unstudied until the 1980s where researchers began studying "flow" more closely.
Positive Psychologist Mihály Csíkszentmihályi describes this mysterious state as:
"Being completely involved in an activity for its own sake. The ego falls away. Time flies. Every action, movement, and thought follows inevitably from the previous one, like playing jazz. Your whole being is involved, and you're using your skills to the utmost."
We all have seen flow; every season we see a player blow up and experience flow on the court.
In 2012, we called it "Linsanity", and this season we are seeing it with Steph Curry. Game after game we see Curry's hot streak continue. Many people are asking why and ultimately pointing to the sheer number of shots that he takes, but he is practicing more than just form and game situations – he is activating his flow. There are many factors that are associated with "being in the zone", but the 3 of the most important are all found while using shooting machines.
Strong Concentration
Having challenging, yet attainable goals
Immediate Feedback
Strong Concentration
Basketball shooting machines take all of the extracurricular work out of fundamental shooting practice. Muscle memory is activated much quicker as you do not have to start completely fresh after chasing your ball down. Immediately after you finish your shot the only thing you have to worry about is simply adjusting and improving your next shot.
There is no time to take a few dribbles, check your phone, or sulk after a missed shot. You have another ball coming right at you! Shooting machines force players to concentrate and force players to always think, "Next shot."
Having Challenging, Yet Attainable Goals
Having clear goals is immensely important and an obvious factor in basketball since making a basket is never a sure thing – every level of athlete will miss shots. Missed shots are what keeps players motivated. With the most high-tech basketball shooting machines, you can actually set goals directly on the machine.
Want to set a goal of taking 500 shots in a specific workout? Or maybe you want to have to MAKE 200 shots in a workout? Dr. Dish basketball shooting machines allow players to stay determined to reach their goal. As this occurs, their flow begins to activate.
Immediate Feedback
Again, the best basketball shooting machines can give you immediate feedback. It has never been easier to analyze your own data and improve upon it. Having real statistics is hard evidence of growth. This data lets you know where you stand and how you can take your goal setting to a whole new level. Having this feedback instantly available to players further enhances the flow that players can experience while shooting.
Most know the obvious benefit of basketball shooting machines: increased repetitions. But if used properly, shooting machines can be much more valuable than many realize. By forcing players to concentrate, setting realistic but difficult goals, and providing immediate feedback, these training machines are providing much more than just reps.
So when you see athletes shooting on a machine know that they are practicing more than their shot, they are accessing their flow and practicing to become the next Steph Curry.
Want to access your flow but don't have a basketball shooting machine? Here are 4 signs you need one!