Enter to Win the Basketball Court of your Dreams
by Kendra Franck, on Jul 8, 2022 10:31:56 AM
The offseason is a great opportunity for players to enhance and develop new skills. At Dr. Dish, this summer we've focused on providing players with the resources they need to Be Better Every Day. Which is why we're excited to announce that Dr. Dish Basketball is teaming up with Goalrilla for the Court of Your Dreams Giveaway!
Court of your dreams giveaway
From Friday, July 8th-Friday, July 15th at 11:59AM CST, players, parents, coaches, trainers, administrators and more will be able to enter to win the court of their dreams!
ONE lucky winner will win a Dr. Dish Home Shooting Machine AND Goalrilla FT60 In-Ground Hoop. There are countless ways to enter, so be sure to complete them all to increase your odds of winning.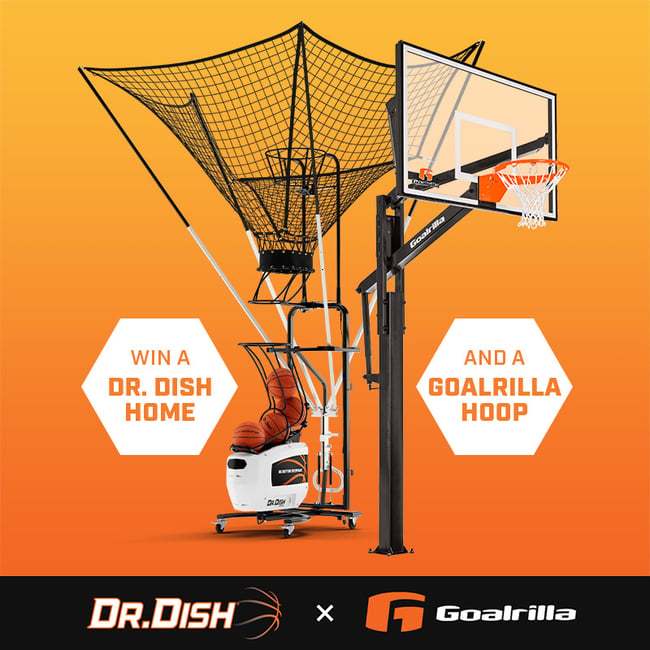 Stay tuned after Friday, July 15th to find out if you've won!
*Note only US and Canadian citizens (excluding Quebec) are eligible to enter*
about goalrilla
Goalrilla began in 1991 with basketball hoops that brought out the player's best game. Today, they continue to offer premium basketball hoops that mirror pro-level goals and perform as those used in NCAA college basketball and NBA games. They believe that athletes who stop at nothing deserve Goalrilla, the training equipment that truly replicates the in-game experience.
We're excited to work with Goalrilla on this exclusive giveaway and build on our desire to provide the highest quality training equipment to players and families across the country!
---
For more ways to maximize your offseason, check out our Summer of Better resources which include monthly challenges/drills, inspirational content, and more!