6 Keys to Creating a Strong Team Culture, Plus 50+ Free Team Building Activities
by Trinity Erickson, on Oct 2, 2023 3:58:30 PM
Almost every coach, no matter the level of play, knows how much a team's "culture" or atmosphere can impact their players on and off the court. Unfortunately, too many coaches choose to do the bare minimum when it comes to prioritizing spending time together as a team.
Building a strong, lasting team culture starts with YOU. Especially with all there is to do at the beginning of the season, it's crucial to come to practice with a plan so team building doesn't get put on the back burner.
Here are 6 keys to building team culture plus, Teachhoops x Dr. Dish's FREE Team Culture Playbook filled with 50+ team building activities and exercises to help you be prepared so you can invest your time where matters most, with your players.
---
1.

Integrity
Integrity is about building responsibility and holding yourself, and your players, to higher standards. Whether it's in the classroom, in the community, or in front of team parents, you and your players should strive to be an example. Have pride in the school you represent, be a role model to younger players who will be a part of the program someday, and most importantly, make those you are representing equally proud of you. And as a coach, integrity starts with you. Your players will follow your footsteps, no matter which direction you choose to go.
2.

Accountability

Successful coaches, like Coach Steve Collins from Teachhoops, hold accountability very high on the list of keys to building a strong team culture. Steve believes that accountability has to be about the entire team. For younger players, it's a little harder to understand that their actions also affect their team, but addressing accountability at a young age makes it easier to move towards a mindset of "We" being more important than "Me". Making it easier to come together as a team to align on goals and as a community to create a solid support system.
3.

Communication
Having an open channel of communication makes it easier to address feedback (as a coach and as a player), and makes your team more comfortable and confident in each other. Continuing to focus on communication also helps to encourage your players to actually talk to each other, which can significantly improve chemistry on the court. Even for your coaching staff, unity is key! Everyone being on the same page, knowing the game plan makes it easier to execute in practice and in games.
4.

Collaboration
When thinking about collaboration in terms of building your team's culture, it's about striving to do things together as one. The best ideas aren't created in isolation. The best decisions aren't made by just one person. Create an environment where everyone's voices can be heard, player or coach. If your players truly believe that your team is just as much theirs as it is yours, or the schools', your players will step up to lead and your team will work more closely together towards the goals put in place.
5.

adaptability
Stuff happens. Someone gets hurt when everyone is least expecting it. Players have family emergencies. Other school activities get scheduled last minute. Not to mention, that you have a life of your own too. No matter the situation, it's important that you can quickly adapt and adjust to be able to come out of the situation that much further ahead. Rather than letting chaos overrun the tasks at hand, you have the power and the position to be a trusting, calm presence to help your players get back on track. By setting a positive example of flexibility and adaptability, you're showing your players that they matter. You're helping them to see and feel that the entire team has their back, and always will.
6.

team building
Dedicating time for off-court bonding and doing team building activities itself is a big component to creating a positive team culture. The more team building you do and the more time you spend with your team, the more your players trust in each other, and trust in you supporting their journey as an athlete.
As a coach myself, I focus on being vulnerable with my team. Making sure to show them who I am as a person so that they are comfortable being themselves too, and want show up the best versions of themselves everyday. Taking time outside of practice to try new things, doing different workouts/drills during practice, or my personal favorite, simply laughing together are just a few examples of what you could do.
Looking for some more inspiration? Download our FREE Team Culture Playbook packed with 50+ team building ideas and activities from Coach Steve Collins!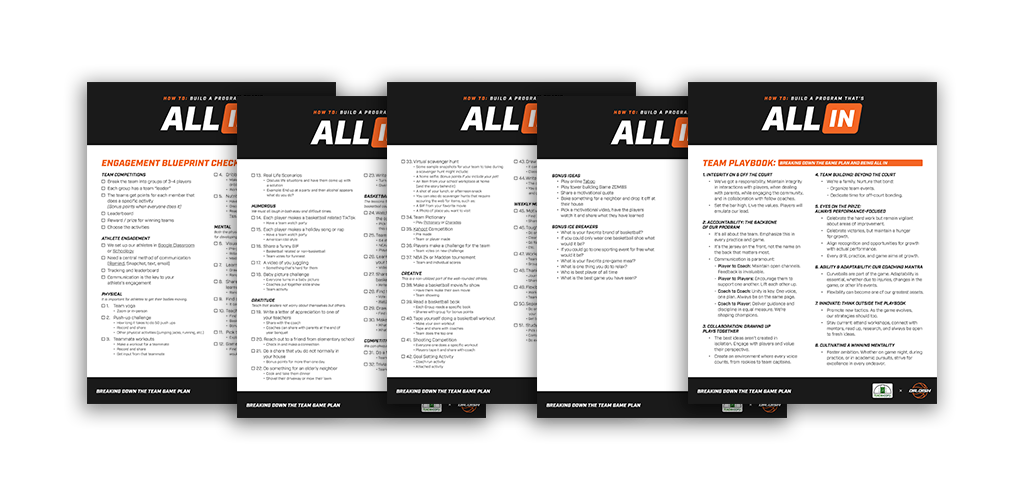 want a deep dive into creating team culture?
Join Coach Steve in Episode 3: "Breaking Down the Team Game Plan" as part of our exclusive Teachhoops x Dr. Dish podcast series.
Sign up now, for FREE!