Debbie Antonelli's 24 Hours of Nothing But Net Back for 2022
by Jeremy Rushing, on May 6, 2022 8:00:00 AM
At Dr. Dish Basketball, we've been honored to help support basketball commentator and Women's Basketball Hall of Famer Debbie Antonelli and her incredible 24 Hours of Nothing But Net event since 2019.
Every May, Debbie will make 100 free throws EVERY hour for 24 hours (totaling 2,400 makes), all the while raising money for Special Olympics. Over the last three years, Team Antonelli has raised more than $415,000 and have a goal of $200,000 in donations this year alone.
Debbie isn't only an advocate for Special Olympics, she's a Special Olympics mom herself. Her middle son, Frankie, was her inspiration for taking on this challenge, which has expanded from South Carolina to six states benefitting Special Olympics programs in Minnesota, North Carolina, Ohio, Pennsylvania, Rhode Island, and Texas as well.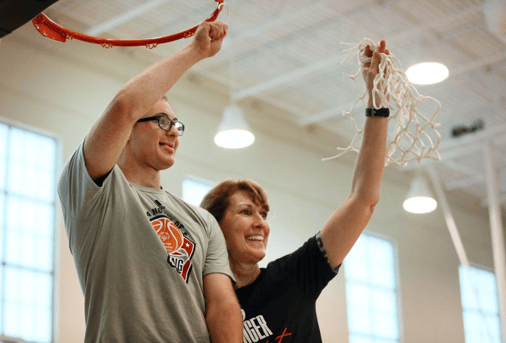 This year, the event will begin at noon EST on Saturday, May 14, with the entire event being livestreamed on both YouTube and Facebook.
As we've done each of the past two years, Dr. Dish will be giving away a Dr. Dish Home shooting machine to one special donor chosen at random. Check out last year's winner in the video below!
We're inspired by Debbie's commitment to helping such a great cause and are once again proud to be part of an amazing event in 2022!
---
Learn more and donate to 24 Hours of Nothing But Net
Read more about Debbie's partnership with Dr. Dish Basketball