From Skeptic to Believer: Why an Elite Trainer is "All-In" with Dr. Dish
by Nick Bartlett, on Oct 2, 2017 8:10:42 AM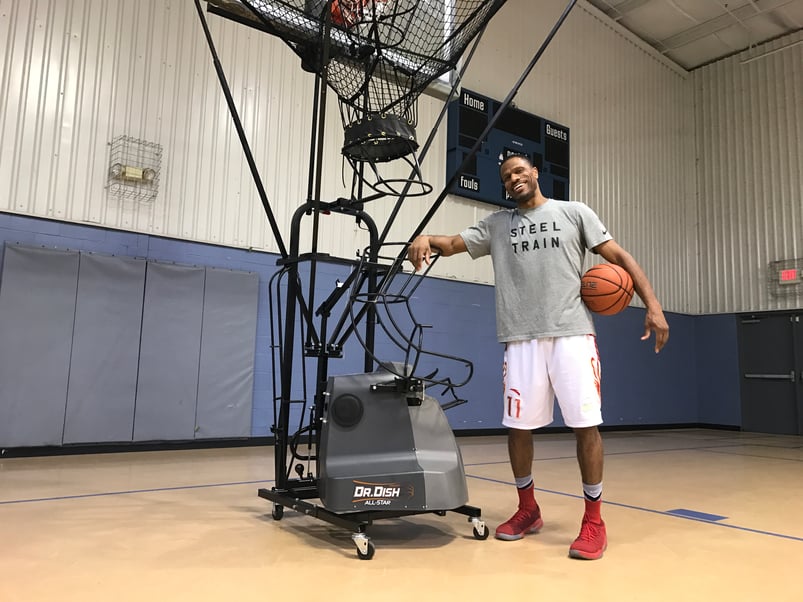 It's been a blast at Dr. Dish Basketball working with those who believe in our innovation and understand how our technology can help accelerate skill development faster than ever.
However, we know there are skeptics out there who aren't quite sure about us just yet.
One of those skeptics was Coach Dorian Lee. Coach Lee is a premier basketball trainer and owner of Bball 101 Elite Player Development located in the Atlanta, GA area.
When we first began working with Dorian, he wasn't sure that Dr. Dish could significantly enhance his program. But once he started using his Dr. Dish All-Star, he knew it was going to be invaluable for his program's skill development.
"As Founder and CEO of B'Ball 101 Elite Player Development I have fought the idea that Dr. Dish could, in fact, take our player development to another level. I would consider our company rooted in "old school" principles with substantial "new school" flavor. For nearly 15 years, our company has been 'cutting edge' in terms of the science behind what we do. So why not have the technology to match? I scoffed at the notion.
Once I bit the bullet and gave the Dr. Dish All-Star a try, I immediately regretted not doing it sooner. It has allowed us to compress time-frames which, in our industry, has significant value. Time is everything. What once took 1 hour and 30 mins to complete can now be done

in 30 minutes

! Also, inevitably, as player development coaches we adjust to our athletes. As they start to fatigue we start to slow the pace as well. You can't cheat the Dr. Dish. You HAVE to match the tempo setting!
In addition, the swivel technology delivers, to our company, the ability to develop our post players at a much higher rate. Post players can now work alone without cheating themselves. I am so sold on the Dr. Dish that I have recommended the machines to major universities and private users, who have purchased. Now, hilariously, I look like a genius. The Dr. Dish is a GAME-CHANGER, pun intended!"
B'Ball 101, LLC
Make sure to give Dorian a follow on Instagram at @bball101epd. His basketball drills and content are fantastic and he continues to use his Dr. Dish All-Star machines in a variety of innovative ways. We're thrilled to have him as a part of the Dr. Dish Family and appreciate his support.
To join Coach Lee and the Dr. Dish Revolution, give us a call at (888) 887-7453 or fill out the form below. If you're also skeptical like Dorian first was, we'll be happy to chat with you about any questions you might have!