Dr. Dish Announces Partnership with French Federation of Basketball
by William Schultz, on May 19, 2021 7:48:37 AM
Dr. Dish Basketball and French Federation of Basketball are excited to announce a new partnership with Dr. Dish as the exclusive Basketball Shooting Machine for all of the organizations under the French Federation's umbrella.
"As one of the top few Federations on the planet, it was a no-brainer for us to want to work with them to grow the game of basketball throughout France. As a FIBA endorsed product, and with all of the industry leading features, a Dr. Dish CT was the perfect fit to add to their world class training regimen.", said Magnus Wihborg, the local lead of the Dr. Dish distribution network in Europe.
WIhborg visited the Federation in March to give the Coaches and Trainers an in depth overview of their new Dr. Dish CTs. During his visit, Wihborg met with the Director of Basketball Operations, Jean-Aimé Toupane.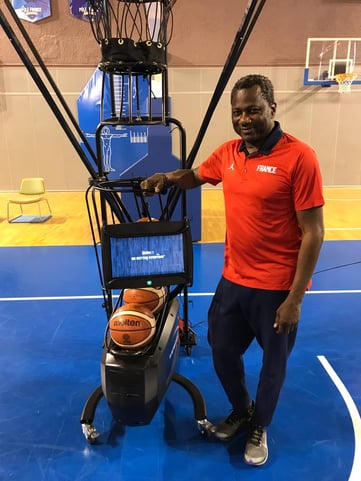 FBFF Director of Basketball Operations, Jean-Aimé Toupane
When asked about why the Organization decided to add a Shooting Machine, and specifically, a Dr. Dish CT, for their program, Toupane responded:
"The Dr. Dish shooting machine is a tremendous training tool for our young players development and for the individual improvement of our French national team players."
The Federation plans to not only use their CTs for elite training with the French National Team at the INSEP training institute in Paris, but also to incorporate Dr. Dish into the skills plans for many levels of youth and 3x3 program offerings.

For more information on the French Federation of Basketball, visit their website or social media below.
For more information on Dr. Dish Basketball in Europe, visit our EU website below.