Dr. Dish Basketball Visits Mounds View High School (MN)
by Nick Bartlett, on Aug 1, 2017 12:22:46 PM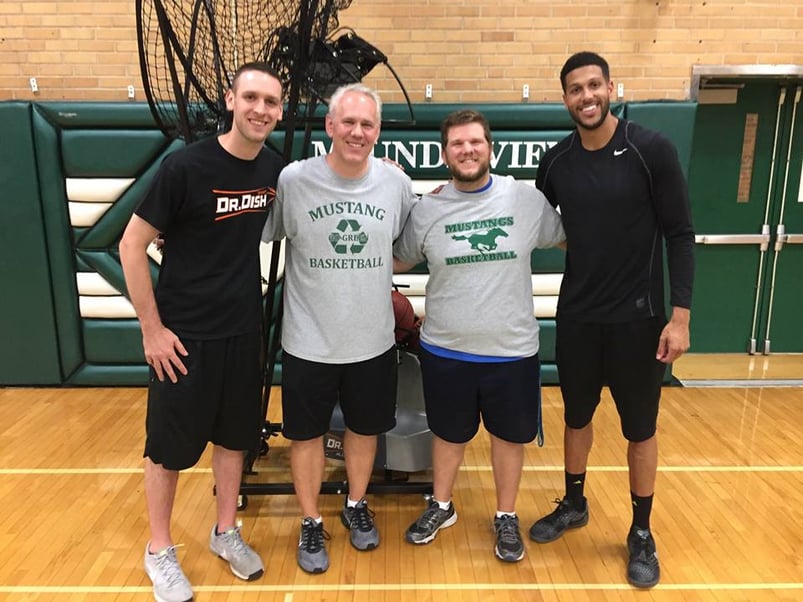 At Dr. Dish Basketball, it's been a blast watching countless number of teams join the Dr. Dish Family in 2017. But this one was a personal favorite of mine as Mounds View High School is actually my Alma mater!
My JV coach and current head coach, David Leiser, actually reached out to me because they were using the same machine that I used back in high school from 2005-08. Yes, it was definitely time to upgrade!
After explaining the unique training capabilities of the machine, Coach Leiser was instantly sold.
"The amount of things you can do on the Dr. Dish All-Star is remarkable. We definitely needed an upgrade and were very excited to get Dr. Dish in the program."
Once they got the machine, I grabbed Coach Mason and Evan, our camera man extraordinaire, to head down for a Dr. Dish Clinic during their Summer Team Camp to showcase all of the different drills they could do in a team, small group, and individual setting. Check it out below!
Dr. Dish Visits Mounds View
We had a blast working on a multitude of basketball drills including half court, full court, ball handling, and post work. The training capabilities of the Dr. Dish All-Star are truly unmatched and the players were able to work on multiple skills throughout the day.
After their Team Camp was over, a group of kids immediately got back on the Dr. Dish to get even more reps up. The excitement factor of what a new Dr. Dish can bring to a program is definitely rewarding for us. We are absolutely committed to accelerating skill development in as many programs and for as many players as possible!
We want to thank Coach Leiser and Coach Anderson for their hospitality and we look forward to watching their progress for seasons to come. Go Mustangs!
---
Countless programs are upgrading to Dr. Dish! See why a basketball coaching legend also recently upgraded!