Dr. Dish Coaches Clinic Recap
by Nick Bartlett, on Nov 13, 2017 10:34:28 AM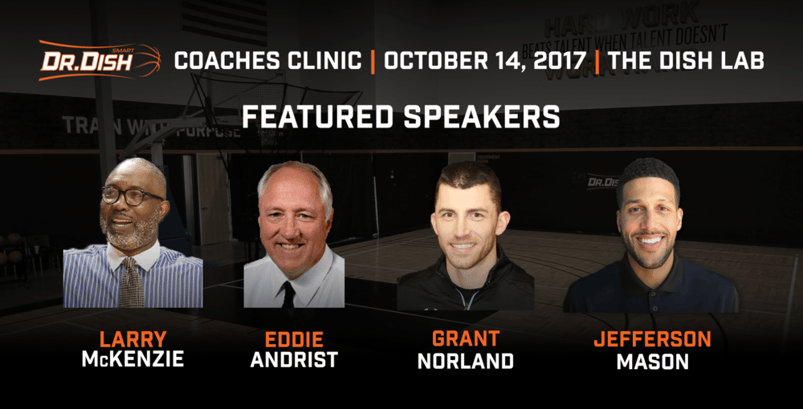 At Dr. Dish Basketball, we're constantly innovating and thinking of ways we can provide extra value to basketball coaches around the world.
That's why we were super excited to host our 1st Dr. Dish Coaches Clinic in the Dish Lab at our headquarters in Bloomington, MN!
On Saturday, October 14th, 2017 we had 30+ coaches in the Minnesota area join us to learn from some great coaching minds. It was a tremendous day of hoops, knowledge, food, and networking.
We covered a ton of different topics to bring as much value as possible to the attending coaches.
Check out the recap below!
Our very own Coach Mason started with "Maximizing Skill Development and Potential" and shared a few stories from his playing days as well as some great shooting drills to work on throughout the season.
Then our partners at Inspired Athletix spoke on "Developing an In-Season Performance Plan" and did a great job breaking down proper warm-ups and how to build more explosive players.
We then had a nice lunch break where coaches were able to connect and take a more in-depth look at our new Training Management System and Skill Builder platforms.
After lunch, our good friend Coach Larry McKenzie spoke on Building a Championship Culture and Managing Egos. He did a tremendous job speaking from his many years of experience in how he's been able to build multiple programs into consistent winners.
Last, we had our longtime friend Coach Eddie Andrist speak and demonstrate his patented run and jump defense. Coach Andrist brought so much energy and passion as he explained the nuances of how he coaches defense. He then gave us all a bonus session to show some of his favorite Dr. Dish shooting drills to work on during the season with his team.
---
We look forward to doing more coaching clinics in the future so stay tuned in case you missed out on this one! For great basketball drills to utilize this season, visit this page.
For more info and pricing on Dr. Dish machines, make sure to fill out the form below.