Dr. Dish Partners with Top College Athlete: D1 Point Guard TyTy Washington
by Kendra Franck, on Nov 27, 2021 11:45:00 AM
On July 1st, the NCAA announced an interim policy that allowed athletes to monetize their name, image, and likeness. At Dr. Dish basketball, we've loved working with colleges to help teams elevate their games. We're extremely excited to work with college athletes across all divisions and thrilled to have TyTy Washington (University of Kentucky) be the first collegiate athlete partner to join our #DrDishFam.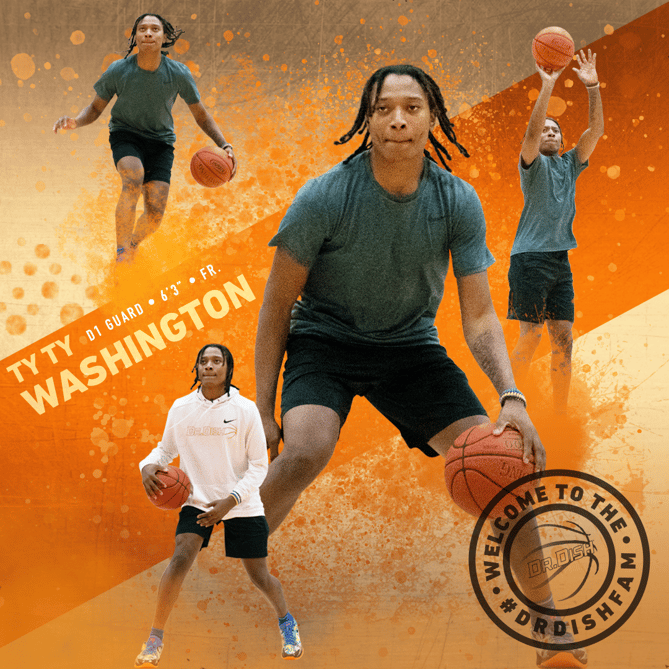 Dr. Dish is not new to the University of Kentucky starting point guard TyTy Washington Jr., but getting to build his brand as a true freshman in college was new territory. Since the NCAA's announcement, TyTy has partnered with us and a local Porsche dealership in Kentucky and Fazolis Italian. Check out what TyTy has to say about training with Dr. Dish below.
---
Prepping for college ball
Before college, TyTy played at AZ Compass Prep, one of the best programs in the state of Arizona and on the rise nationally. They've been able to develop incredible players which has led to many of them receiving scholarship offers to play basketball at the next level. We recently got the opportunity to chat with Head Varsity Coach, Pete Kaffey about TyTy's time at AZ Compass Prep. When asked about TyTy's impact on their program Pete said,
TyTy was a one of a kind leader and also very coachable. His ability to score and create opportunities for his teammates is what truly set him apart from other players at his level. He is just a likable guy and he helped take our program to the next level."
TyTy was at AZ Compass Prep for two years and in that short amount of time was able to grow and develop as a player tremendously. When asked about his player development Pete said,
TyTy was always a leader but he continued to grow in that role. He also evolved outside of basketball with his personality and charisma. Our goal at AZ Compass Prep is to help turn boys into men and productive people in society. He led by example and took this program to new heights."
We are proud to have AZ Compass Prep in the Dr. Dish Family as well as they recently added a Dr. Dish CT to their program. They've used the machine to help accelerate their player's development. TyTy put in a ton of work to get where he is today and when asked about his work ethic Pete said,
TyTy was relentless when it came to working hard. He was in the gym shooting on the Dish tracking his success everyday. His goal was to get a little better each day. TyTy also grew into a player that loved pressure situations and he loved being the guy to deliver."
Freshman Season
We're excited to follow along TyTy's season. Here's a peak at some of his in-season games so far with the University of Kentucky...
10 points, 3 rebounds, and 2 assists vs. Robert Morris (11.12.21)
16 points, 3 rebounds, and 3 assists vs. Mount St. Mary's (11.16.21)
20 points, 11 rebounds, and 5 assists vs. University of Ohio (11.19.21)
TyTy has seen improvement with each game and is becoming more and more comfortable with the pace of play and physicality of college basketball. Be sure to stay tuned to his upcoming games!
Check out a few of more of TyTy's accomplishments below!
TyTy Washington
University of Kentucky Starting Point Guard (Division 1, SEC)
Ranked No. 14 overall (2021 ESPN 100)
Projected first-round pick in 2022 NBA draft.
Ranked 10th in the Associated Press preseason poll (2021).
Named to Wooden Award watch list.
Preseason candidate for Naismith National Player of the Year (2021).
Named to Lute Olson Award preseason watch list (2021).
Named to Jordan Brand Classic.
Named to All-Tournament Team at GEICO Nationals
Received offers from: Baylor, Arizona, Kansas, Creighton, University of Kentucky, LSU, Oregon, and more.
MaxPreps Arizona Player of the Year (2020-21)
MaxPreps National Player of the Year top 5 finalist (2020-21).
Helped lead AZ Compass Prep to a 30-2 record (2020).


---

We've got tons of great content with TyTy that we're excited to share with you so make sure you're following us on Instagram, Twitter, Facebook, TikTok and subscribing to our blog and YouTube Channel.