Dr. Dish Partners with Rising Stars Sports Academy & NBA Skills Trainer Chris Thomas
by Kendra Franck, on Jun 16, 2021 10:45:00 AM
Here at Dr. Dish we always strive to provide the best tools to help basketball players consistently improve their game. We recently opened our Dr. Dish Lab Shooting Academy in Bloomington, MN to give players the opportunity to train with Dr. Dish shooting machines.
Now, we've partnered with Rising Stars Sports Academy who will be offering private training with NBA Skills Trainer Chris "CT" Thomas in the Dr. Dish Lab Shooting Academy July 9th-11th.
Check out this blog to find out more about Rising Stars Sports Academy, trainer Chris Thomas, and this awesome upcoming opportunity for players!
---
Rising Stars Sports Academy
Rising Stars Sports Academy is a basketball facility located in Spring Lake Park, Minnesota. They work to provide youth athletes, parent volunteer associations and their families with a place to develop crucial life skills such as: teamwork, leadership, learning to cope with both failure and success, and learning to compete in a positive and productive manner. The work that they do helps improve the youth sports experience and creates a synergy between the youth and high school programs the community transitions into as they get older.
Chris "CT" Thomas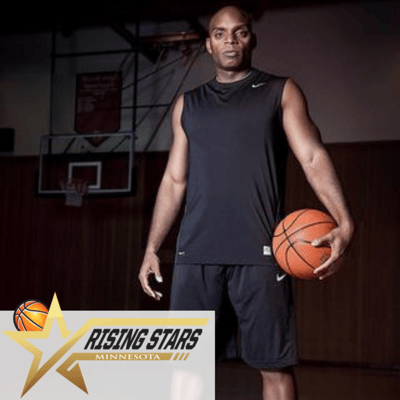 Chris "CT" Thomas was born and raised in Rockford, Illinois. He was a standout point guard at Harlem High School. He attended Purdue University and graduated in 1995 with a B.S. in Accounting. After working for an accounting firm he decided to pursue his passion for basketball training and development.
Since then, Chris has been or is currently a designated Basketball Trainer for the following:
John Lucas Camps
Boo Williams Basketball Combines
Nike Skills Academies
Nike Global Challenge
SEEDS Foundations (Senegal, West Africa) Annual Forum
Nike All-Asia Camp
Nike China Basketball Clinics
NBA Player International Tours (LeBron James, Kevin Durant, Kobe Bryant, etc.)
CT's training methodology involves a combination of functional fitness and fundamental skills to enhance the performance of basketball players. He strives to improve the quality of basketball players by helping them appreciate the rewards of a positive attitude, work ethic, self-discipline and self-determination.
---
Be sure to check out the Dr. Dish Lab Shooting Academy and book a session and take your basketball training to the next level!