Dr. Dish Basketball Shooting Machine Giveaway: August 10, 2016
by Nick Bartlett, on Aug 14, 2016 1:00:14 PM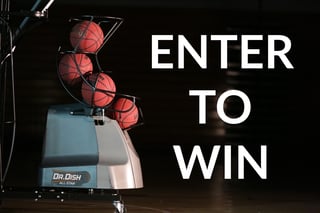 In case you didn't see, we at Dr. Dish Basketball ran our first nationwide Dr. Dish All-Star Basketball Shooting Machine Giveaway in 2016!
Our first nationwide Dr. Dish Givewaway was back in December of 2015 and it was an absolute blast. So we decided to run another one that concluded last week on Wednesday (8/10/16). We had a bunch of entries from multiple events and clinics we attended so far this year and combined those with ton of online entries. In total we had over 5,000 entries of coaches, trainers, parents, booster club members, and players from all over the world that entered to win.
It was great seeing the response and excitement around the giveaway. Here are a few of the enthusiastic entries who expressed their excitement on Twitter: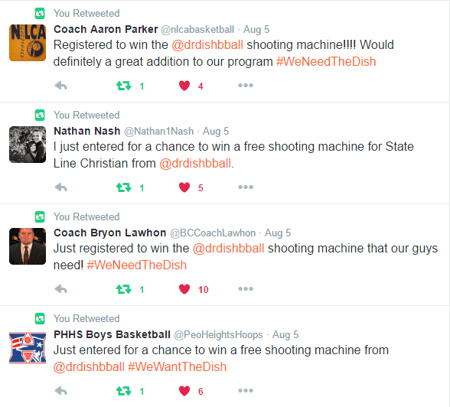 We definitely wish we could give away a machine to everyone that entered! But in the end, we could only award one lucky winner with a brand new Dr. Dish All-Star basketball shooting machine. Watch below to see the winner:
Congratulations again to our winner!
It was a blast and we look forward to doing another giveaway again in the future. Hopefully we will see you at a basketball coaching clinic near you! Otherwise, please sign up to our blog so that you are notified the next time we run a Dr. Dish basketball shooting machine nationwide giveaway.
And as mentioned in the video, we're thrilled to have Jefferson Mason on-board at Dr. Dish Basketball as our Training Specialist! His expertise and experience of playing basketball at a very high level will be very valuable to our audience.
Thank you again to everyone that entered! If you ever have any questions or are ready to purchase a Dr. Dish basketball shooting machine, please give us a call at (952) 873-2633 or fill out the form on this page with any questions you might have.
---
Having trouble getting funds for a shooting machine? Check this out - it may be more realistic than you might think!