Dr. Dish Virtual Basketball Camp is Back for a Third Straight Year
by Jeremy Rushing, on Aug 1, 2022 2:00:00 PM
At Dr. Dish, we are constantly striving to give our customers and audience as many basketball training resources as possible to Be Better Everyday!
We've already brought you an offseason checklist to keep you (or your team) accountable this offseason, our Summer of Better training resources, and outlined the 10 Most Undertaught Skills in Basketball and how to improve them.
We couldn't possibly take that to a new level, could we? You already know the answer...
We're proud to introduce, for the third consecutive year, Dr. Dish's VIRTUAL CAMP!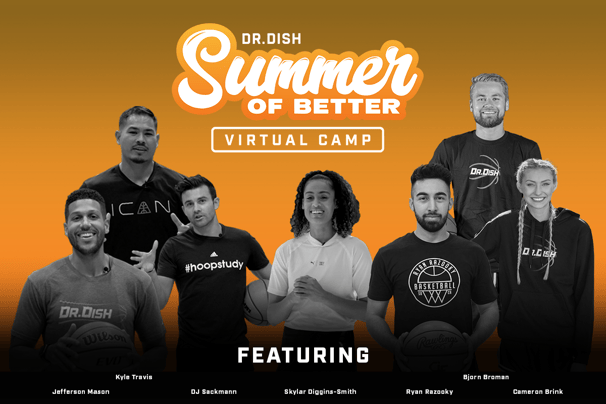 What to Expect
Virtual Camp is a free five-day virtual basketball camp featuring drills and workouts from the best players and trainers in the game today.
Get exclusive access to basketball training from D1 All-American Cameron Brink, 6x WNBA All-Star Skylar Diggins-Smith, as well as world renowned Professional Skills Trainers Kyle Travis and Bjorn Broman, among others!
We'll cover everything from midrange, three-point shooting, and ball handling to core work, conditioning, and mobility. This camp is designed to help make you a more complete player and get you ready for the season ahead.
In addition, you'll get access to a daily progress tracker and workout calendar to keep tabs on your training, an Ultimate Quote Book to keep you motivated, and a journal template for stat-tracking.
---
Sign up today and take advantage of this free weeklong camp, led by top-tier basketball players and trainers!