How Ability360 is Making Basketball Accessible for Adapted Athletes
by Aaron Lange, on Feb 12, 2021 8:00:00 AM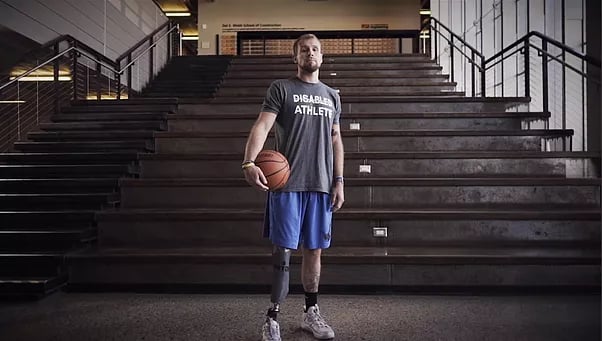 Nick Pryor grew up in a small town in Indiana. As an athlete who was also an amputee, he never even knew that adapted sports existed.
"When I was playing sports in my hometown, I didn't even know that wheelchair sports or adaptive sports were a thing. I was used to just playing with my friends as usual. I even played club baseball at a Division One school, IU (Indiana)."
Now, Nick is a program coordinator for Ability360. Ability360 provides adaptive sport, recreation, and fitness opportunities at a state of the art facility in Phoenix, AZ. In this role, Nick is a Sports and Fitness specialist who advocates for all athletes.
In addition to his role at Ability360, Nick participates in many adaptive sports, and plays on the amputee travel basketball team called AMP1.
Check out the video below for more information on AMP1.
While AMP1 is a basketball team, they stand for much more. They also travel the country sharing their stories, and speaking with students. Their goal is to motivate, educate, and inspire everyone they come across.
"I don't want any kids to be left behind. I want kids growing up to know that they can do anything. I look back and think what if I would have had this community growing up? How would my life have been different?"
In 2019, we were thrilled to work with Ability360 and get them their first Dr. Dish shooting machine! After catching up with Nick, he shared the impact the Dish has made on their facility and programs.
"We are 1 of only 3 facilities in the country that are universally designed for folks with disabilities. Our team practices are 2 hours long, so the Dish has been huge. Before we had it, we had to pick and choose what we would do during a practice. Now, players can get up reps while we do something else at the same time."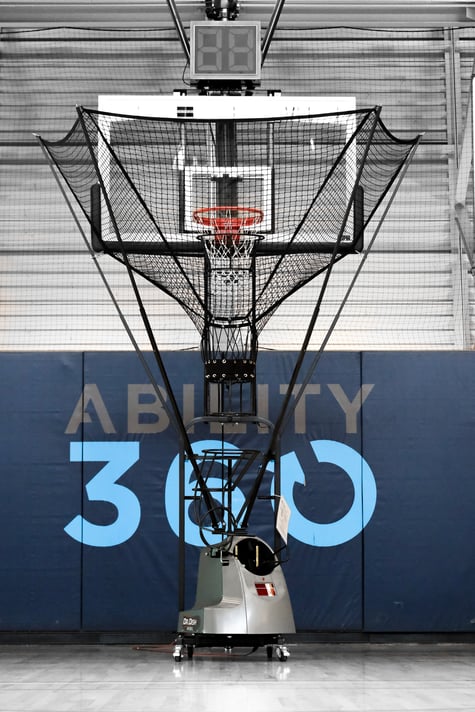 In addition to their facility, their teams have had impressive growth in numbers and achievements. As of late, they have put their team on the map nationally.
"In 2016 Ability360 acquired an adult Division 3 team called the Phoenix Wheelchair Suns. From there, we've made national tournaments every year. We've moved up from Division 3 to Division 2. Now, we have 3 teams (D2, D3, Varsity) due to the growth in our programs. We even played at an NBA half time show. It is exciting to see more people gravitating to what we are doing."
With all of this growth, Nick and his team knew they had to expand their equipment offerings. Last year, he reached out about getting their 2nd Dr. Dish machine. In July, the purchase was finalized to get Ability360 their 2nd Dr. Dish Rebel!
"Both of our machines we're funded from grants. We're fortunate to have great supporters who believe in what we are doing. Really, I want our facility to make the Dr. Dish available for every player. "
With the unique capabilities of their facility, Ability360 does everything they can to allow members the ability to train on their 2 machines.
"If I had to describe the Dr. Dish in one word, it would be accessible. For how we need to use it, it is perfect for our team. We keep the Dish set up at all times for anyone to use. Our teams use it, you can rent out court time, there are options."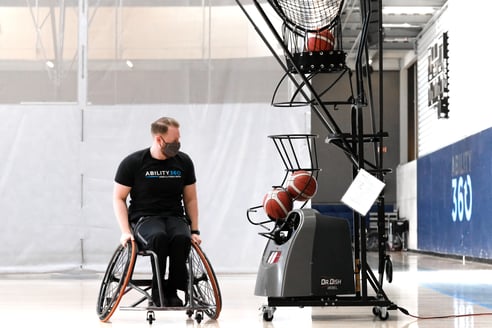 With all of their success and growth, we asked Nick what he saw as the future for adapted sports, and Ability360.
"I'd like to see a lot of the misconceptions about the sports be gone. As a lifelong athlete, wheelchair basketball is the hardest thing I've ever done. The Paralympic Games parallels the Olympics. These are athletes training at the highest level. I'd like to help more kids find the community that the sports can provide, that sense of belonging."
We love everything that Nick, Ability360, and AMP1 are doing for the game of basketball. We will be keeping a close eye on their teams' growth, and are thankful to have played a small part in all of their success here at Dr. Dish Basketball.
---
Are you looking to join Ability360 as a member of the #DrDishFam? Click the link below to request pricing on all of our machines.