Dr. Dish Welcomes Byron Scott to the Family with an NBA Shooting Challenge
by Nick Bartlett, on Mar 29, 2021 3:36:06 PM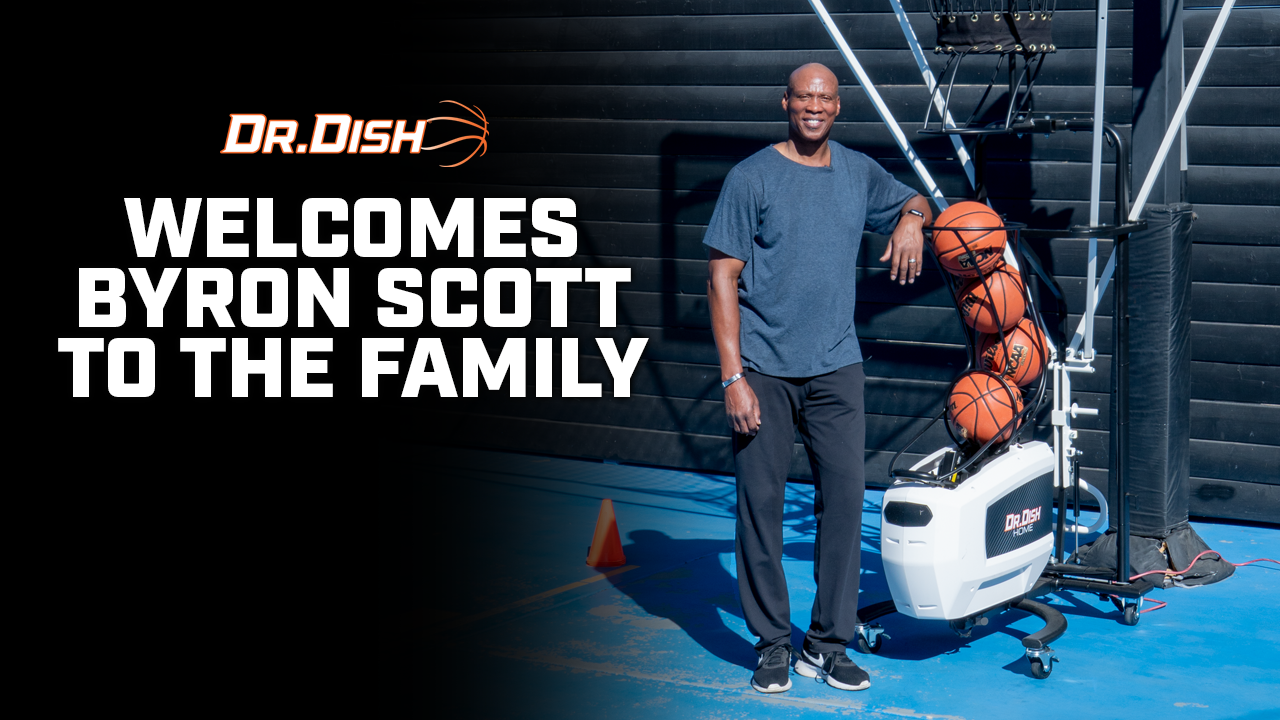 We're thrilled to officially announce our partnership with Byron Scott - a 3x NBA Champion and NBA Coach of the Year!
Check out what Byron has to say about Dr. Dish in the video below.
At Dr. Dish Basketball we pride ourselves on working with many of the top basketball coaches, trainers, and minds in the game. Byron's resume certainly speaks for itself:
As player:
3× NBA champion (1985, 1987, 1988)

NBA All-Rookie First Team (1984)

FIBA EuroStar (1997)

Greek Basket League champion (1998)

First-team All-Pac-10 (1983)

Pac-10 Freshman of the Year (1980)

No. 11 retired by Arizona State Sun Devils

Fourth-team Parade All-American (1979)

McDonald's All-American (1979)
As Coach:
NBA Coach of the Year (2008)

2× NBA All-Star Game head coach (2002, 2008)
We were connected with Byron as his nephew, Max, received a Dr. Dish Home machine for his backyard. Recently, we were very fortunate to visit Byron and Max to create a number of drills, workouts, and challenges on the Dr. Dish Home - including the 50 make challenge below!
50 Make Challenge
In this 1st drill video from Byron Scott, he demonstrates a great shooting challenge he often used with his players while he coached in the NBA.
Starting at the corner, the player must make 10 shots from the 5 standard spots around the arc (corner, wing, top of the key, wing, corner) for a total of 50 makes. The drill is simple in nature, but is challenging as the goal forces and simulates a pressure situation and often causes fatigue towards the end.
As Byron mentioned, he had players from the Cleveland Cavaliers complete this challenge in less than two minutes. Obviously that's a world-class achievement, but challenge yourself to see how quickly and how little attempts you can complete this challenge.
Depending on the skill level of the player, we recommend a fast tempo as quick as "1" on the Dr. Dish to get shots up as quickly as possible.
If you have access to a Dr. Dish, you can find this challenge within the Dr. Dish app and/or the Dr. Dish CT touchscreen.
---
If you're ready to take your game to the next level like Byron Scott, make sure to check out all of our Dr. Dish shooting machine models below.