From Spain to Eurohoops Dome for individual training with Teo and Dr. Dish!
by William Schultz, on Sep 26, 2023 10:15:00 AM
When preparing for excellence, top athletes choose the Eurohoops Dome to go All-In for their individual training sessions, both during the season and for their summer training.
Dimitrios Agravanis, Ioannis Agravanis, Georgios Kalaitzakis, Panagiotis Kalaitzakis, Dimitris Moraitis, Kostas Antetokounmpo, and Thanasis Antetokounmpo – just to name a few – they all swear by the Eurohoops Dome. It's where they hone their skills, push their limits, and prepare to elevate their game to new heights. But it's not just Greek prospects who make this place their second home. This summer Spanish upstarts Ruben Lopez De la Torre and Miquel Llompart, representing the National Teams of Spain, made the pilgrimage to Athens.
The young internationals with the National Teams of Spain, Ruben Lopez De la Torre and Miquel Llompart were in Athens and did not miss a day of their training. Inside the Eurohoops Dome,the 20-year-old forward of Gran Canaria and the 16-year-old former guard of Badalona and now of Manresa found a treasure trove of state-of-the-art equipment, including (of course) a few Dr. Dish CT machines. Their individual programs were carefully crafted by Lefteris Kalogirou, the Eurohoops Academy's Head of Individual Skills Development and EuroLeague and Olympics Legend, Theodoros Papaloukas shared valuable advice with them.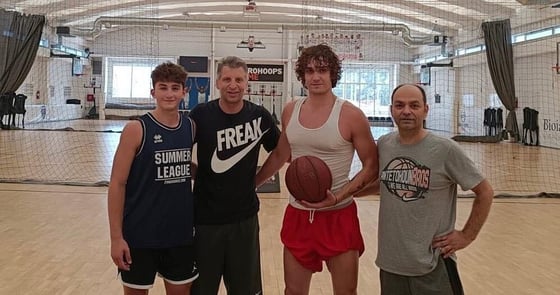 So if you train around the Athens area, check out what programs the Eurohoops Dome and Eurohoops Academies have to offer; and see how you too can Be Better Every Day!