How Work Ethic Helped Develop One of the Best Shooters in Ohio History
by Brennan Pruszinske, on Jan 29, 2020 12:00:00 PM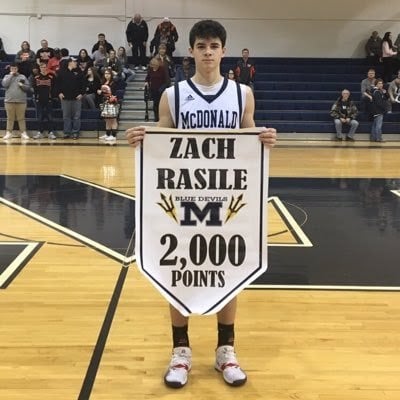 Most players only dream of scoring more than 1,000 points in their high school career. It's something most athletes have in common, the desire to be at the top; and no one that achieves the top says it was easy.
Meet Zach Rasile: The Ohio basketball player that just passed LeBron James in high school scoring.
Elite.
The best word to describe Senior PG Zach Rasile's High School career in the state of Ohio. For the entirety of Zach's high school career at McDonald High School, he has been putting up legendary state records.
To list just a few of Zach's countless accomplishments:
He set the State Record for 3's in a single season with over 140, which he broke as a freshman.
He shattered the all-time career 3 point record (previously 330) with 410 after just his Junior year (he keeps adding to that record every game).
He has racked up over 2,650 points and counting (recently passing LeBron James).
He's a career 90% free throw shooter.
Zach has one, simple key to his success: Hard Work.
Zach has a unrelenting willingness to win, which drives him to work harder than anyone else. When the hallways of the school are empty in the summer months, Zach is in the gym working on his form, perfecting his game, and getting up shots with their high school's Dr. Dish All-Star. In the summer Zach records over 60,000 3 pointers on the shooting machine, shooting 80%. When asked about this Zach said:
"We spend a lot of time in the gym and the Dr. Dish never comes down. It has helped me a lot throughout the years to improve shooting by getting up lots of reps."
Zach's drive has also motivated his teammates. McDonald has one of the highest-scoring offenses in their area. Head Coach Jeff Rasile, who also happens to be Zach's father, said:
"We have a very efficient offense and can definitely credit all the hard work the kids put in the off-season on the Dish."
Here at Dr. Dish, our motto is to "Be Better Everyday". Zach and his teammates have embodied this by putting in the work to chase their desire of being at the top. They created a team that doesn't stop at mediocrity and chases greatness. Dr. Dish recognizes players such as Zach who set the bar high and help push his teammates to be the best they can be.
Zach leads his current 14-2 McDonald team and will continue his basketball career at the powerhouse West Liberty University (D2) who has a track record of success. Dr. Dish looks forward to watching Zach's hard work and dedication pay off.
---
If you know of a player like Zach or a team like McDonald High School that's using Dr. Dish to help build their legacy, we want to hear and feature you! Feel free to reach out to info@drdishbasketball.com or reply in the comments.
Want to see who else is using Dr. Dish to accomplish great things? Click below!
---
Click here for more info on Dr. Dish basketball shooting machines.
For drills and workouts using Dr. Dish, click here: https://www.drdishbasketball.com/resources
Follow us on social media for daily basketball drills, tips, and inspiration!
https://www.facebook.com/drdishbball
https://www.twitter.com/drdishbball