How Dr. Dish Helped Turn One Basketball Trainer's Dream Into a Reality
by Brittnye McSparron, on Dec 12, 2016 10:00:00 AM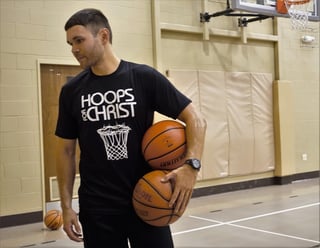 It's always a treat for us at Dr. Dish Basketball to chat with our customers and find out how their Dr. Dish machines have enhanced their program! I was thrilled to be able to catch up with Coach Phillip Morrison about his recent purchase of Dr. Dish for his basketball program, Morrison Basketball Academy. Keep reading to learn how Dr. Dish is taking his program to the next level!
About Morrison Basketball Academy
Phillip Morrison, former professional basketball player and Founder of both Morrison Basketball Academy and Hoops for Christ, recently joined the Dr. Dish Family. After watching numerous videos of his player's using the Dr. Dish on Instagram and reading a little bit about his Academy, I decided to give Phillip a call and chat about his program and how the Dish has helped him!
Since implementing the Dr. Dish into his training program he has seen a new level of excitement in his players. He says players are eager to get into the gym to use the machine and even come in early or stay late just to get extra reps on Dr. Dish.
Phillip has always been a involved member of the community. While playing professionally in the Philippines he was the Director of Basketball training at a ministry called the Salvation Teams. He partnered with churches and ministries using basketball to invest in kids while also volunteering his time to improve their quality of life. After retiring from professional basketball about a year ago, Phillip started his own training program and has seen rapid growth ever since. Outside of owning his own basketball academy he is also the Nike Basketball Camp Director of Kentucky.
Why Dr. Dish?
Before owning a Dr. Dish himself, Coach Morrison had heard of the "Shooting GUN" but never actually had one of his own. His dream was to someday to get a shooting machine for his program. After much research he decided to choose Dr. Dish given its advanced technology, portability, and design. He said:
"The GUN looked very big and BULKY whereas the Dish was just more pleasing on the surface. I also liked how easy it looked to transport the Dr. Dish machine and how simple it was to set up, take down, and program drills. For the price, it definitely appeared like Dr. Dish was the best value."
Philip refers to the day his Dr. Dish showed up in his gym as a Christmas Dream, much like when Ralphie got his red BB gun in the Christmas Story :)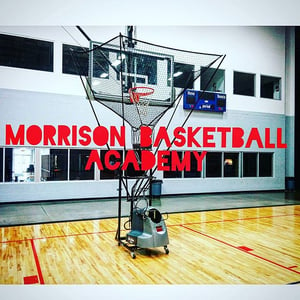 "There's no doubt in my mind that I made the right decision and am looking forward to developing my players faster than ever with the help of Dr. Dish."
The Excitement Factor
Since adding the Dish into his training program he has not only seen a new excitement in his players they also display increased confidence due to rapid development in skills. They are able to get more out of the training session by not having to spend time chasing balls around the gym and more time focusing on form and footwork.

"The efficiency Dr. Dish provides is tremendous. Whether I'm working with one player or over ten, it's easy to program workouts within seconds. Dr. Dish also allows me to focus more on coaching and focusing on important fundamental details."
His training partner Terrance Farley, former professional basketball player and now a trainer at Morrison Hoops Academy specializing in training of wings and posts, LOVES the versatility of the Dr. Dish All-Star with the swivel net capability.
Parents seem to be enjoying the Dish just as much as the players! He receives constant messages from parents on how happy their kids are to be using the new machine and how they now take more pride in the program and the development of their skills!
Check out Phillip's awesome website for more on the Morrison Basketball Academy.
Thank you Phillip for sharing with us and welcome to the Dr. Dish Family!
---
Looking for Dr. Dish Drills? Check out our drill library packed with team, partner, and individual drills!