How Hoosier Shooting Academy is Changing the Game in Player Development
by Jeremy Rushing, on Sep 11, 2021 11:30:00 AM
At Hoosier Shooting Academy (HSA) in southern Indianapolis, there are no courts, no scrimmages, no team or 3-on-3 training.
Instead, the floor is made up of 14 separate shooting keys, exclusively focusing on individuals and their growth as shooters and shot-creators. For CEO Paul Swartz, this is admittedly an uncommon and mostly unprecedented method, but he believes it's a game-changer for the future of player development.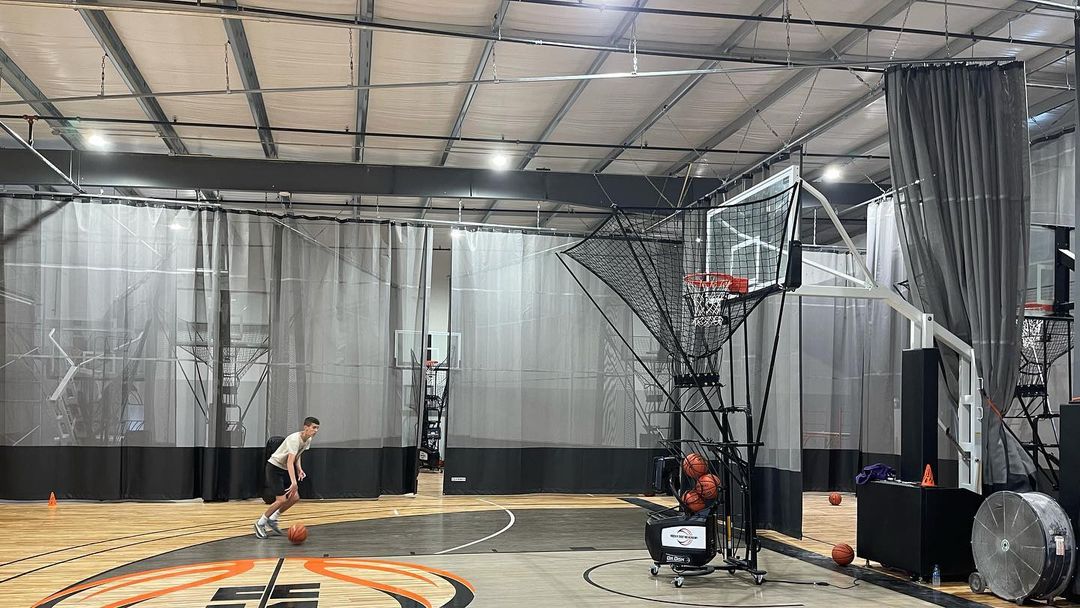 "When people saw it on paper they thought I was crazy. They looked at it like 'there's no way'", Swartz said. "A lot of it goes back to a Stan Van Gundy interview that he did where he talked about how there was no player development, and I looked at all these other facilities and they were all based on teams. Nobody was ever developing the player."
On the surface, training 14 players individually at one time indicates you have 14 separate coaches or trainers to give those players the attention they need to get the most out of their time. However, this isn't the case at HSA. Instead, Swartz relies on a few crucial aspects to ensure he provides an unmatched experience for those training at his facility without breaking the bank to do so.
Ideation
Having spent 14 years as a coach at both the high school and collegiate level, Swartz saw first hand the team-focused and win-focused training approach used from an early age, and the 2018 state Champion saw the need for a more player-focused approach.
After nearly a decade of traveling the country, picking the brains of trainers, coaches, and industry influencers, Hoosier Shooting Academy opened its doors just last year, and it was time for Swartz to put his idea into practice.
"I wanted to have an impact in a market and something that would be sustainable for a long term, and not where I just do it and rent court space," said Swartz.
The father of three also had a reputation of training and developing some of the NBA's top talent, like Gordon Hayward, Mike Conley Jr., and Jeff Teague, along with thousands of college and high school players.
That relationship often grew from more than "trainer-player", and became more of a bond and trust that Swartz really cared about making these players the best they could possibly be.
"People feel like 'Well, if Paul's on the court he's going to do the right thing by the players.'", Swartz said.
Technology
Opening a basketball training facility in this day-and-age means utilizing the latest available gadgets and pieces of equipment to stay at the forefront of resources available to your trainees.
Swartz believes there's one product that provides him that edge above all else.
"Dr. Dish is everything," Swartz said. "95% of our business model is based on the Dr. Dish."
HSA utilizes the Dr. Dish CT shooting machine to give the players and those who train at the facility a NBA-level trainer at their fingertips no matter what day, time, or situation their training in.
Case-in-point: Swartz recalls getting a flat tire while on the way to a training session with a player. Instead of the player aimlessly shooting around until Swartz was able to get to the facility, he was able to call the player and have him pull up a few different drills on the machine until Swartz arrived, resulting in quality time spent on the court even without a physical coach or trainer there.
"I have NBA trainers on top of NBA trainers with the Dr. Dish," Swartz said.
People
While digital assistance is widely utilized and prioritized at HSA, the passionate people involved in the day-to-day operation are who Swartz credits most with the facility's early success.
"You need quality people around you," said Swartz. "Everyone that comes in here wants to be here. They believe in our model, they believe in the kids, they believe in what we're doing."
After all, you need an actual person with an idea to create something like the high-level training center HSA has come to be, and it's clear that Swartz's infectious devotion is a huge driver of why players, coaches, and others trust HSA to make them better.
Future
Even as HSA becomes a go-to destination for players to maximize their growth, Swartz remembers that bright-eyed coach with an idea, scaling coast-to-coast to gain inspiration and expertise on how to make that objective a reality.
With this in mind, Swartz understands similar facilities are and will continue to pop up nationwide, and he welcomes the opportunity to "pay it forward" and help someone else fulfill their dream, just as others assisted him almost 10 years ago.
So what advice would he give?
"Go against the grain," Swartz said. "Don't fall into the trap of what everyone else is doing. Create your own structure."
---
Find more HSA Video Content Here.
Click Here for More Info on Hoosier Shooting Academy.