How Montezuma's Boulton Sisters Are Using Dr. Dish to Break Records
by Aaron Lange, on Apr 26, 2021 11:00:59 AM
Growing up in Montezuma, Iowa, sisters Mia (Sophomore) and Elise (Senior) have always lived in a basketball town. Their mother held their High School's record for 3 point shots, while their Father played College Basketball at Simpson College in Indianola. Now, the sisters are using Dr. Dish to write their own stories.
As the Boulton Sisters were approaching High School, they knew they had work to do. In order to succeed at a high level, they needed increased confidence in their abilities. While they'd been practicing since they were young, they were eager to take their games to new heights.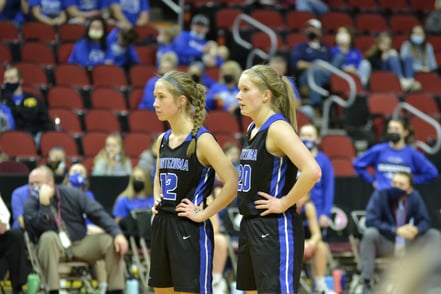 Mia Boulton (Left) and Elise Boulton (Right)
"I tended to overthink the game sometimes. When I was younger, I would focus too much on feedback from coaches, or the other team frustrating me," said Mia.
With Montezuma being a basketball town, the school was willing to invest in their program's. They purchased a Dr. Dish All-Star to enhance their training, and allow their players to get up reps at their convenience. With the machine available, Mia and Elise we're eager to get to work.
"The Boulton sisters have had many weekend dates with Dr. Dish in the gym," said their Head Coach Janel Burgess.
FAMILY BUSINESS
The Boulton's grandfather, Al Rabenold was the supervisor for many of these weekend sessions. Being a Hall of Fame Coach himself, he was excited about the opportunity to help his grandchildren reach their potential. His daughter, the Boulton's mother, was the school's record holder in all-time 3- point makes.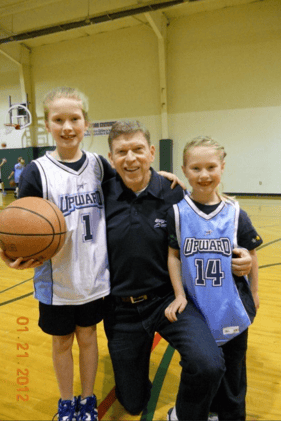 Elise and Mia with Grandpa Al
"I always told the girls when they were little, Grandpa can't teach you how to sing or dance, but I can sure teach you how to shoot a basketball," recalls Al.
From there, the girls were off to the races. Al noticed from an early age that they had a high commitment to the game, and were willing to sacrifice. He even remembers life before the Dr. Dish being very interesting.
"My wife Denise and I used to set up basketballs all around the arc. We had a toss-back net and would be chasing rebounds all over the place. Our neighbors must have thought we were crazy, but we were doing our best."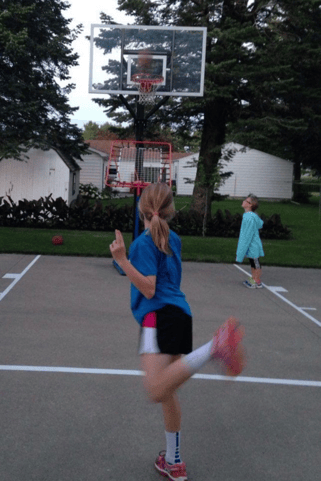 With the help of their Grandpa's coaching, the Boulton sisters used the Dr. Dish strategically. One summer, the girls logged over 10,000 three-point makes. Al remembers a story where he wasn't able to get in the gym to help the girls shoot. Without his keys, they couldn't turn the lights on.
"The girls called and asked if I could come by. I wasn't available, so knew they would have to shoot in the dark. I asked them to try propping the door and see if their eyes would adjust. Apparently, they did because they shot for hours before they called me back."
MAKING THEIR MARK
All of the practice with Grandpa on the Dr. Dish certainly paid off. Both Elise and Mia have a long list of impressive accomplishments both individually and as a team. Their team has made the state tournament 4-straight years since Elise has been playing varsity.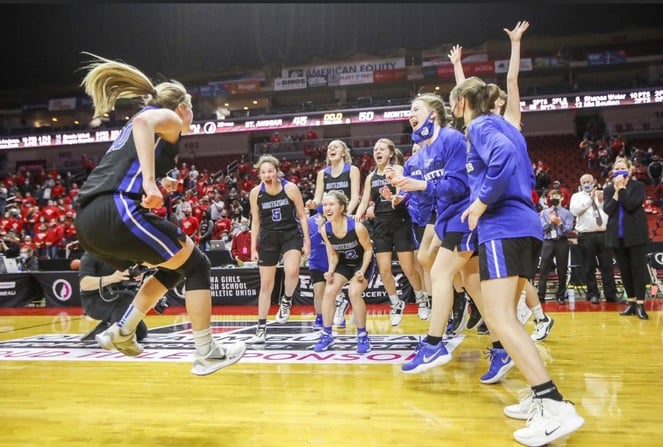 Montezuma Team Celebrates a State Tournament Win
Elise won a $15,000 scholarship given to one female senior athlete at the state basketball tournament. She helped lead her team to the state basketball tournament 4 times during her career. During that time, she broke the school record in 3 pointers made (274), 3-pointers in a game (9), assists in a season (139), and 3-point percentage (44%). She finished her impressive career with 1,232 career points, averaging over 17 points per game as a senior.
"People would always ask me, how did you get such a quick release? I tell them, put the Dr. Dish on a tempo 1 and shoot until you can't anymore."
Mia has seen a lot of growth early in her High School career. As a Freshman, she made 37 3-point shots. In her Sophomore year, she doubled that with 73. That number led the state of Iowa for made 3-point shots, tying only one other person, her older sister Elise. Together, the pair had over 145 made 3-point shots this season alone.
It's clear that Grandpa is proud of both of the girls' hard work, and what they were able to do during their time playing together.
"I can say with all honesty that the success we've had would not have happened without Dr. Dish. I have used other machines in the past, and they're heavy, hard to set up, not easy to use. There is no way we'd be getting tens of thousands of shots up in the summer. This led to the girls being face guarded, leaving other people open, and ultimately to a winning team."
THE DREAM CONTINUES
While their days of playing High School basketball together may be done, Mia and Elise's basketball careers are both still ongoing.
For Mia, she wants to carry on the legacy her sister will be leaving behind.
"I plan to be the best teammate and leader I can be. I pride myself on being the hardest worker in the gym, so I will continue to lead by example and improve this off-season."
Elise has some big things in her basketball future as well.
"I will be playing next year at Simpson College. Eventually, I hope to work for the Iowa Girls High School Athletic Union one day. I'd love to help student-athletes have the amazing experience I had in high school."
Whether it's at Simpson College or Montezuma High School, we'll be in the Boulton's corner cheering them on! Their dedication and commitment to Be Better Everyday is inspiring to us all.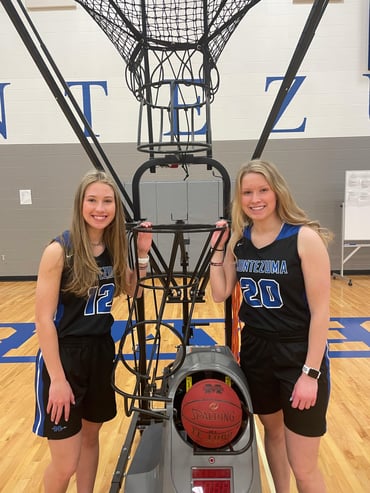 Are you looking to join Mia and Elise as members of the #DrDishFam? Click here to get pricing on all of our machines.