How NDSU uses their Dr. Dish to Make Better Decisions
by Evan Davis, on Dec 5, 2016 11:12:41 AM
We pride ourselves in being able to bring advanced statistics and analytics to our customers via our online database and mobile app. Our goal is to allow coaches at all levels of the game to have the information they need to make better in-game decisions at the tip of their fingers. David Richman, Head Men's Basketball Coach of the North Dakota State Bison, took some time out of his schedule to talk to us about how the players utilize these stats to help them become successful on the court!
Dr. Dish Review - Coach David Richman, NDSU Men's Basketball Head Coach

Analytics aren't just for D1/Pros Anymore
In the past, there was a lot of manual work put in to tracking a player's shooting percentage. Players haven't been able to efficiently track their stats during the summer because of accountability and lack of resources. For example, when I was in high school, players would come into off-season open gyms and write on a piece of paper how many shots they took and how many they made. The coaches weren't there. They couldn't see it with their own eyes, and they didn't know where they were taking the shots from or how hard they were going when they took the shots.
Coach Richman says that the player's ability to have a more subjective look at these stats was one of the reasons he was initially interested in Dr. Dish:
"The off-season is when they typically have the most time to progress as players and it comes during a time when coaches are not allowed to supervise. Player's being able to track their success, knowing they're collected by a machine, gives me peace of mind to know the player's are accountable and tracking their progress correctly."
Knowledge is Power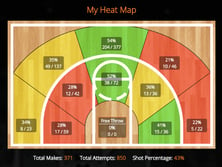 While being able to progress is important, tracking where those shots came from can be the difference between winning a game at the buzzer and going home disappointed. The Dr. Dish online database includes a heat map that keeps track of where players are shooting from and can show the players themselves where they are shooting best from on the floor. This provides players with the information they need to work and develop their shot in certain areas, but also gives coaches information on who they should put in certain spots on the floor at the end of the game to get the best shot possible. As Coach Richman states:
"During the season, the Dish gives me the ability to see that my player shoots best from the right wing, so I can draw up a play to ensure that he gets the ball at the right wing, giving him the best opportunity to knock down the shot. That is a powerful tool and if I apply that to everyone on the team, it really increases the potential to get extra buckets."
*****
We would like to thank Coach Richman for sitting down with us and sharing his story with us and we wish the Bison the best of luck this season! If you have your own story of how you utilize your Dr. Dish for game-like training we'd love to hear from you.
And if you're looking for inspiration on how to further incorporate your basketball shooting machine into your practices, Coach Mason has been busy in the #DishLab creating drills you can try out. Just take a look at our Drill Video Library!
---
Want to see how more coaches are utilizing their Dr. Dish? Learn how this college coach uses his Dish to get game-like training by clicking the link below: