How One MN Family is Using the Dr. Dish Home to Build Their Legacy
by Aaron Lange, on Feb 18, 2021 2:00:00 PM
Check out this blog post to see how a Dr. Dish Home is transforming how one family makes their mark. Lindsay and Adam Gust know a thing or two about tradition. As former college athletes at Winona State University, they are now the parents of 6 girls under the age of 15. Their family's basketball tradition is just beginning.
"Tradition starts now. That is what I always tell my girl's. We've talked about their goals, and our family's goals for basketball. We want to end up as the all time leading scoring family in MN girl's basketball history. It's a lofty goal, the total is almost 10,000 points."
Setting The Bar
Before her youngest daughters were born, Lindsay was the head coach of the St. Charles (MN) women's basketball team. She used to joke that she wanted to have her own basketball team, but she didn't think it would be all girls. Makadyn, the oldest Gust girl, who is currently a 9th grader, knows the bar is set high.
"I tell Makadyn, you will have to raise the bar. You have 5 siblings who will be trying to break your scoring record, so make sure it is tough to beat."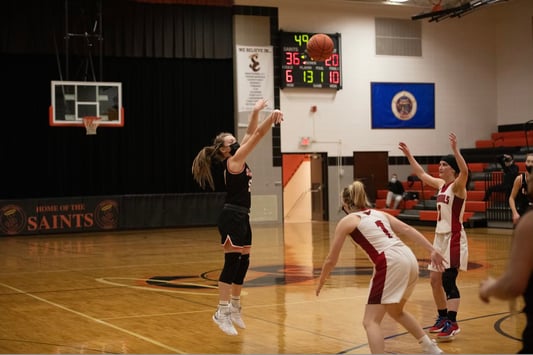 Photo courtesy of Greta Verthein
In order to reach these considerable goals, Lindsay knew that her girls would have to have the tools they would need to succeed. That's why, in Fall of 2020, her and Adam purchased a Dr. Dish Home machine, and set up a basketball court in their garage.
"I always say that I want to invest in the future. We believed that investing in a Dr. Dish is us investing in not only our kids, but their teammates and friends. I remember as a kid shooting on a hoop with no backboard, let alone a machine. I wish I had this when I was growing up."
With Adam being a school teacher, the Gust family typically has access to the high school gym, which also has a Dr. Dish All Star. However, with COVID restrictions in place, the gym was not accessible for training. With their Dr. Dish Home machine, Makadyn has been able to keep getting better in the comfort of their garage.
"We keep the Dr. Dish set up ALL the time. Now, she can get hundreds of shots up in the mornings before school, over lunch breaks, in-between classes, really any time. Before we got the Dr. Dish, Mom and Dad were the rebounders."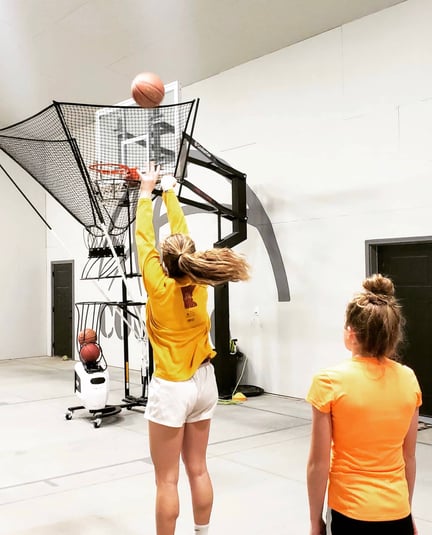 Rising To The Challenge
Makadyn isn't shying away from the lofty standards the family has set. Last year, she started playing varsity basketball as an 8th grader. This was a big achievement, but just the beginning. As an 8th grader, she was averaging 5 points per game, and getting few minutes off the bench. She was hungry to get better this offseason.
After her family received their Dr. Dish Home, Makadyn went to work. She's put up thousands of shots since receiving the machine. The results have been transferred to the games, as well. She is shooting 40% from the 3 point line, and 55% from the field. In numerous games she has scored nearly 30 points. Early in the season, Makadyn's team was undefeated, and she was leading the conference in scoring.
The local news took note of her team's success, and featured a story on their hot start.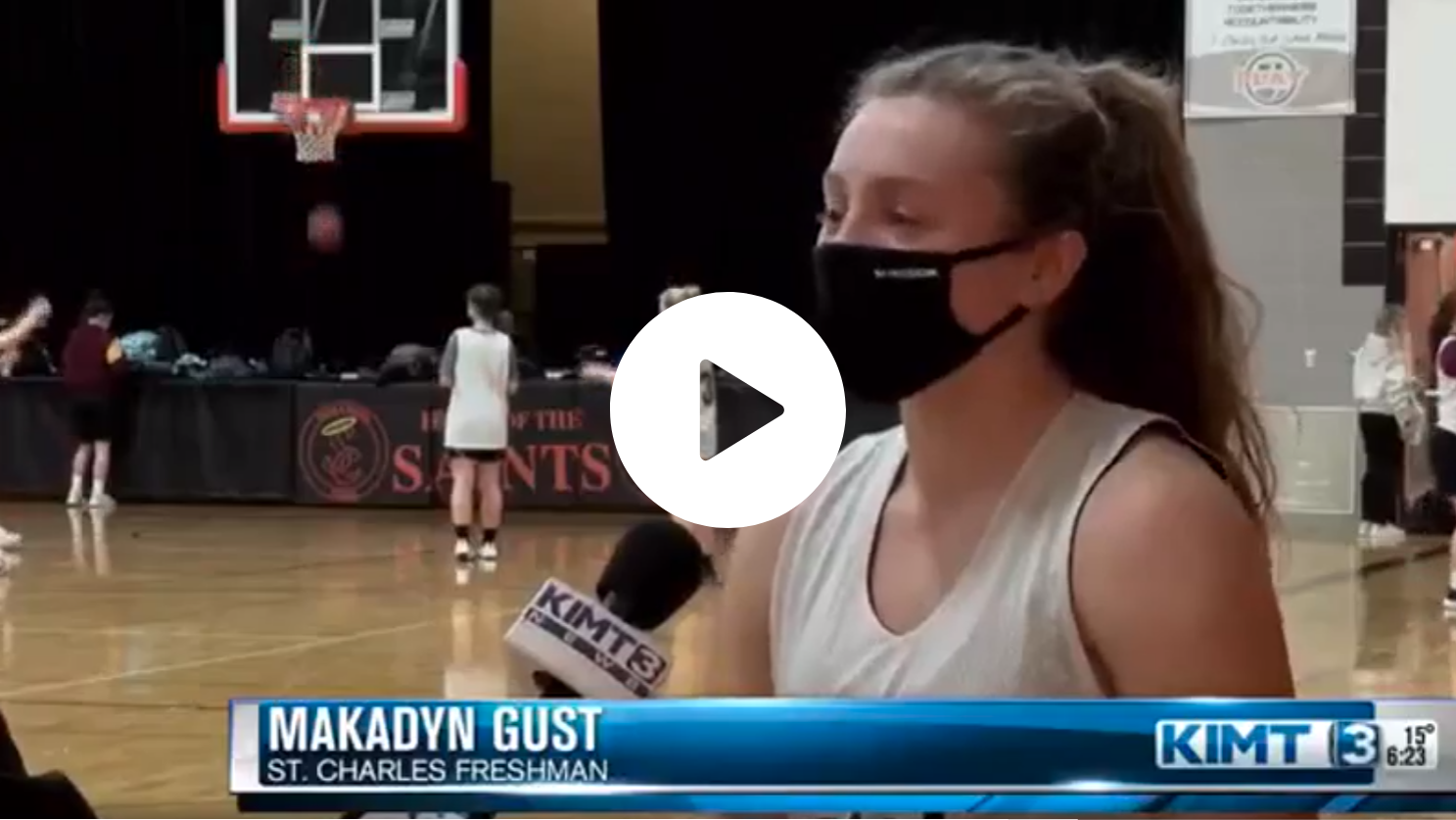 If you ask Makadyn, her dedication to putting up countless reps on the Dr. Dish Home has built her confidence on the court.
"I 100% feel more confident during games. I tell myself "it is just like shooting on the machine. If I miss a few shots, I know what my percentage on the player app is, so I just have to keep shooting."
Looking Ahead
Since she is only a Freshman, Makadyn has a few years of playing High School basketball remaining. She plans on putting in a lot of time on the Dr. Dish to help her reach her goals.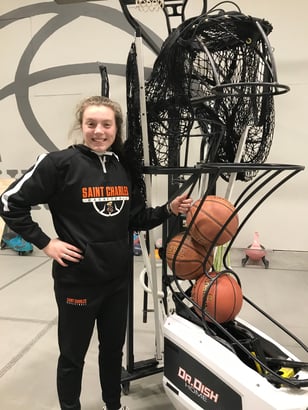 "I want to have a lot of success as a team. I'd love to make the state tournament. For me, my goal is to score 1,000 maybe even 2,000 points. I want to work as hard as I can to get a scholarship to play Division 1 basketball at a great program"
With the Gust family being in our home state of Minnesota, we will be watching their development closely. We wish Makadyn and her sisters all of the best in their Highschool basketball journeys and beyond. We're grateful to be playing a small part in their record-breaking pursuits.
---
Are you looking to join the Gust family as members of our #DrDishfam? Click the link below to get pricing on all of our products.