How Pinkerton Academy Used Dr. Dish to Win More Games
by Aaron Lange, on Mar 26, 2021 10:00:00 AM
Dave Chase has been a varsity basketball coach for over 30 years. In his years of coaching, he became familiar with basketball shooting machines and what they could do for his players. His latest career journey led him to coaching at Pinkerton Academy in Derry, New Hampshire. One of his first initiatives as the new coach was to get a Dr. Dish in their gym.
"Our school was tight on storage space, so the Dr. Dish was perfect. We needed something that was easy to store, and take out to use."
Progress Over Perfection
As soon Pinkerton got their machine, the players started putting in work. Initially, Dave noticed that his players had a strong tendency to only want to shoot 3-point shots on the Dr. Dish. With Dave being an 8-time state champion winning coach, he knew the importance of balance.
"I tell the players to take smart shots. If you're wide open on a bunch of 3's, the other team might be leaving you open on purpose. To start the year, we're making around 30% of our 3 point shots on the Dish."
With the year progressing, Pinkerton started using the Dr. Dish in a variety of ways. Utilizing ten minute rotations, they would make sure that all position groups got time on the machine during each practice.
"We keep the machine set up on one court during practice. We'd use the Dish in all sorts of ways. Having our big men work away from the basket, guards working with post players, just continually switching it up. The number of shots we got up throughout the season was astronomical."
Numbers Never Lie
The progress that Dave was seeing was not just anecdotal. As the season went on, the stat sheet reflected what he was seeing in practice. The chart below shows their shooting percentage and points per game. The left side is from the previous season, and the right side is after a year of using the Dr. Dish.
| | | | |
| --- | --- | --- | --- |
| 2019 Stats (No Dish) | | 2020 Stats (With Dish) | |
| FG% | 34.2% | FG% | 43.1 (+8.9%) |
| 2 PT FG% | 36.8% | 2 PT FG% | 47.9% (+11.1%) |
| 3 PT FG% | 30.1% | 3 PT FG% | 32.6% (+2.5%) |
| FT % | 57.9% | FT % | 66% (+8.1%) |
| PPG | 45.2 Points | PPG | 55.6 Points (+10.4) |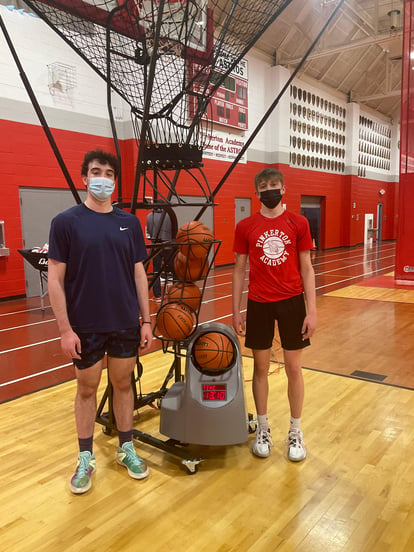 The 2020 basketball season was anything but normal for Pinkerton. The school was shut down twice during the season due to COVID concerns. Even with nearly a month being away from practice, they kept improving. Any time the players could get in the gym, they were putting in meaningful work.
"One of our favorite drills is the UCONN shooting drill. The drill involves 2 basketballs and 5 minutes of straight shooting. The first time we did this, we made 7 shots a minute early in the year. Our last practice, the guys made 15.4 shots a minute, over double their early season number. I'm proud of the progress they've made."
Building a Winning Tradition
The practice is leading to wins, as well. Pinkerton won 8 more games than they did the year prior. We're excited to continue following their journey, and wish Coach Chase and his team the best of luck moving forward! We have no doubt they will have a lot of success in their future, and are thankful to play a small part in that.
---
Are you looking to join Pinkerton Academy and become a member of the #DrDishFam? Click the link below to get pricing on all of our machines.