How to Get Noticed as a Recruit this Off-Season
by Kendra Franck, on May 17, 2021 8:18:00 AM
The pandemic has certainly affected the way sports were played throughout the past year. High schools had seasons shortened or cancelled and colleges had game schedules completely changed. The uncertainty and changes also greatly impacted recruiting efforts for college programs and high school athletes. This blog will outline the current status and rules for recruitment among Division I, II, III, NAIA and NJCAA athletics and discuss how athletes can enhance their recruiting efforts this off-season!
---

Current Recruiting Regulations
On April 15th 2021, the NCAA made an announcement that starting on June 1st, all sports will be able to return to their normal recruiting calendars. This means all face-to-face meetings with recruits off/on campus, and in-person scouting will resume. For basketball specifically, visits and in-person evaluations won't resume until the end of August after the recruiting calendar dead period. Below is a concise breakdown of each level's current status.
NCAA Division 1

: All recruiting activities will resume on June 1st.

NCAA Division 2

: Normal recruiting calendars resumed on September 1st 2020.

NCAA Division 3 and NAIA

: No regulations were ever announced so individual programs have adapted to coronavirus public health guidance based on their state.

NJCAA

: In-person recruiting ban was lifted on May 15th 2020.
How to showcase your talent
For athletes who experienced shortened or cancelled seasons especially as a Junior or Senior it can be extremely stressful. However, now is a great time for athletes to showcase their adaptability, accountability, and dedication to their sport. Coaches understand that this year was unprecedented and full of obstacles.
How athletes overcome the challenges and obstacles will be what coaches are evaluating. Basketball athletes can keep their recruiting process on track and showcase their talent through managing their social media presence, creating a skills video, remaining active, and demonstrating dedication.
Managing Social Media Presence
Social media is a great way to be connected to the world however, it comes with risks. Anything you post online is subject to misinterpretation. Along with this, it doesn't matter when you posted something, even if you forgot about a post from a long time ago, it can be found. Maintaining a clean social media is important always but especially when you are hoping to get recruited by colleges. Coaches look at athletes' social media profiles to get a better understanding of their personality and life outside of basketball.
Here are some tips for maximizing your social media presence:
Set your accounts to public: this allows for complete transparency between you and potential coaches. You should also include your social media handles when you send emails or messages to coaches.
Highlight Accomplishments: Social media is a great way to share highlights and accomplishments in a positive and humble manner.
Avoid posting inappropriate content: Make sure you monitor your social media as well as what friends/family/other accounts tag you in or post on your wall. Remain dedicated to posting content that is positive and uplifting.
Create a skills video
Coaches recognize that the recruiting process has certainly changed over the past year and making a skills video is a great way for athletes to showcase talent especially ones who didn't have or finish their season. Here is what coaches would want to see in your basketball skills video:
Technical skills: ball handling, passing, defense, footwork, and shooting.
Any footage from old games, practices, or tournaments that you may have
Individual drills or small group training footage
Consistency and repetition with shooting
Below are some great tips from NCSA on how athletes can create a skills video
Having a Dr. Dish machine can also be extremely helpful to showcase your skills. Whether you have your own machine or use a facility/school's machine, you have the ability to track your stats and highlight your strengths as a player. Our analytics provide players with heat maps, shooting percentage summaries, and drill-by-drill breakdowns. Sending your skills video and statistics to coaches will demonstrate your adaptability, accountability, and dedication to basketball throughout this unprecedented year.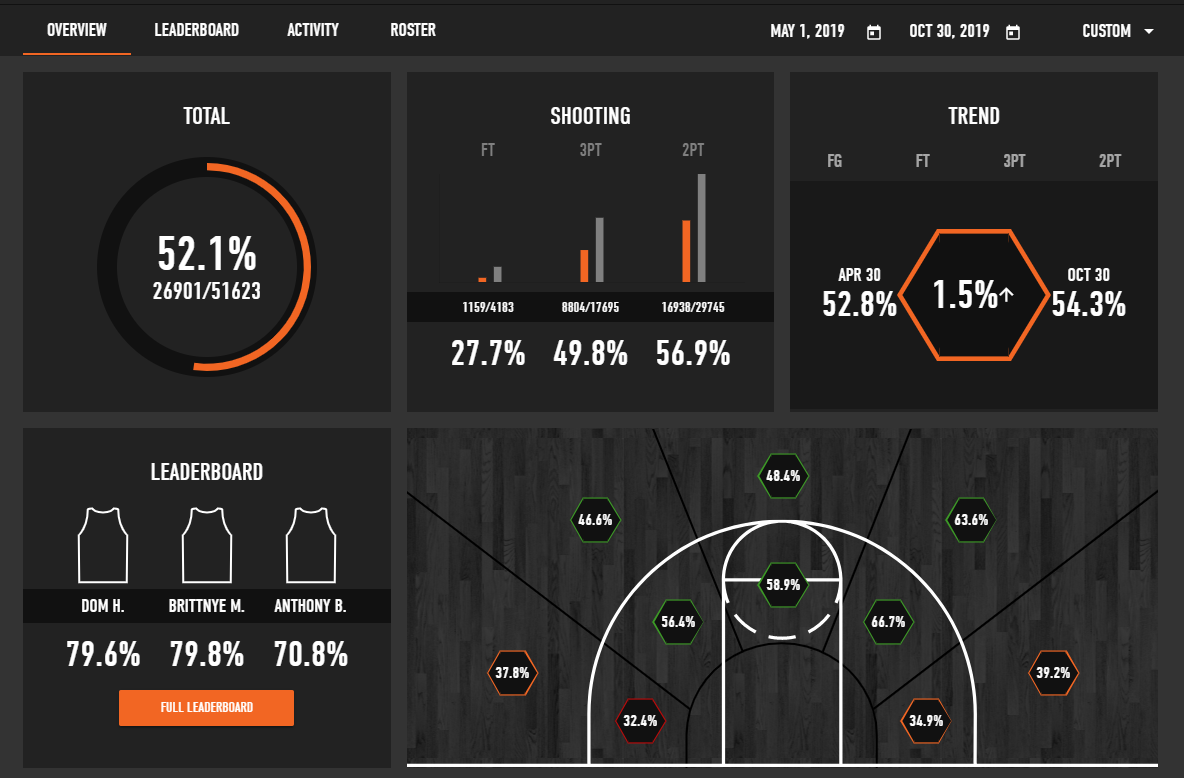 Be Active
Athletes should not sit around waiting for coaches to email or call them, they need to play an active role in the process. Some of the ways athletes can do so is through research and education. Athletes should create lists of things they want from a University. Education is extremely important so you should think about if you would really want to go to the school if basketball wasn't an option.
Another option for athletes to remain active is by attending recruiting webinars or classes. NCSA offers recruiting classes that cover a ton of different topics including NCAA updates, sport-specific recruiting advice, and Q&A sessions.
Continue to demonstrate dedication
We recognize that this year has created challenges for all athletes, especially those in the recruiting process. There have been many changes to how coaches are able to recruit and the way players are able to showcase their skills. However, there are still creative actions athletes can take to showcase their strengths through skills videos, statistic tracking with a Dr. Dish, basketball-specific recruiting education, and actively reaching out to coaches.
We hope that this information empowers athletes to take charge of their recruiting process and remain focused and dedicated to basketball! For more basketball resources click here.