One-Armed Mamba Kat Tan Seeks to Inspire Basketball Players Around the World
by Kendra Franck, on Jul 21, 2021 3:15:00 PM
All hoopers know about the challenges that come with being a basketball player: the long hours training, sacrifices, tough wins and harder losses. Kat Tan faced challenges like these and then some, everyday. Kat sees all her challenges as opportunities and they helped her earn the nickname one-armed mamba. We recently had a conversation with Kat and learned about her inspiring story and experience with basketball!
---

Kat's Story
When Kat was younger, basketball was more of a hobby and tennis was her primary sport. Kat is an only child and grew up with her Dad constantly watching sports. Kat remembers, "He was a big fan of Michael Jordan and we would always watch games". Kat became a big Kobe Bryant fan at a young age and got the chance to meet with him a few times when he was in the Philippines.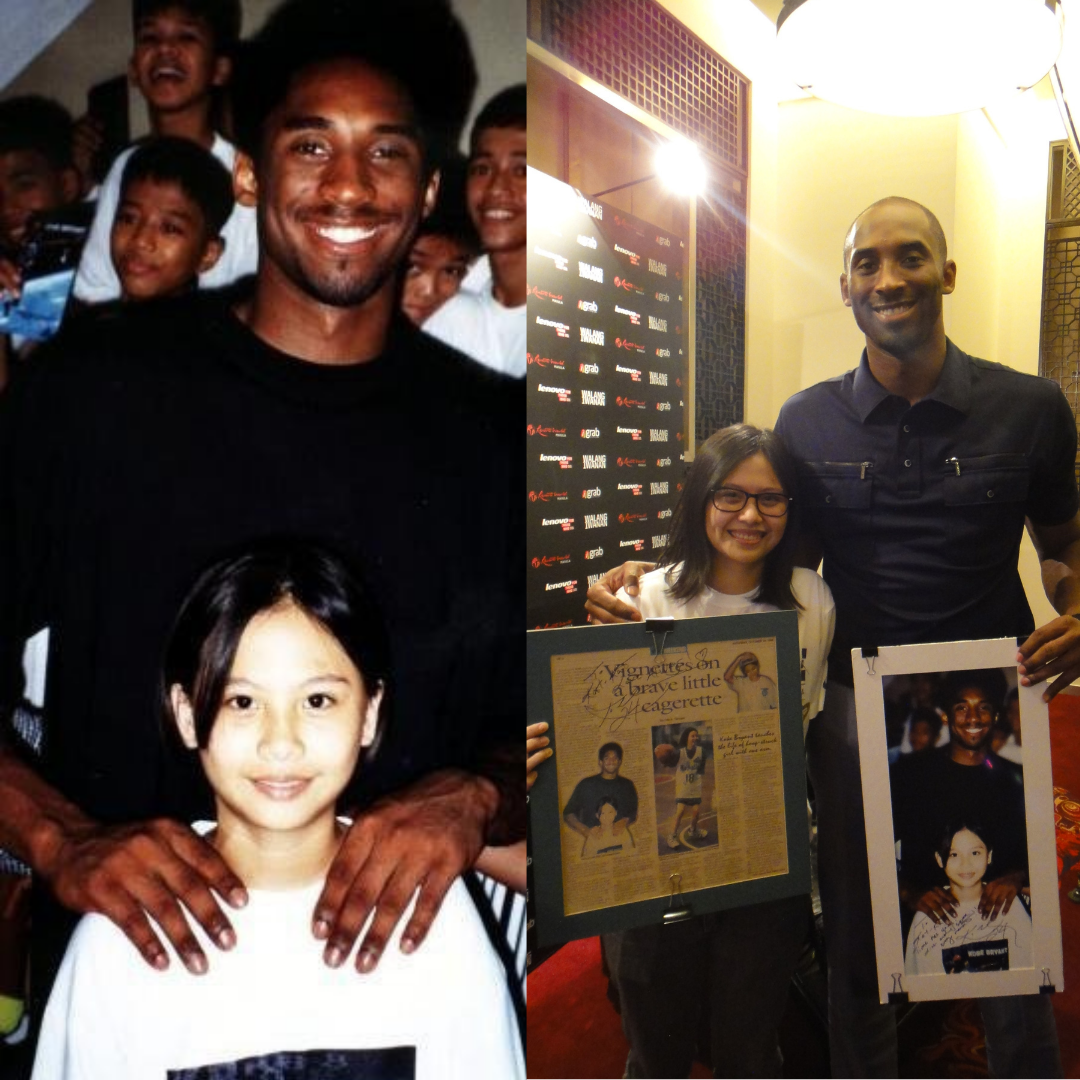 Kat meeting Kobe when she was young and when he visited the Philippines again in 2016.
Kat initially did not make her grade-school varsity team at De la Salle Zobel in the Philippines. She was told her lack of size was a reason the coach looked the other way. Before Kat could try out again for the team, she suffered from an accident that changed the course of her sporting career.
Kat was brave and shared her story with us about the day that changed her life forever. She was 10 years old and hanging out with her friends at a carnival on school grounds. Her and some friends got into a rollercoaster ride. During the ride, the operator sped it up and walked away. This caused the ride to derail and sent Kat and her friends out of their seats and threw them off the ride. Kat suffered injuries to her head and also lost her arm.
Kat's spirit was never defeated from her accident and it became her reason to work harder than she ever has. Even with setbacks and physical challenges, Kat remained determined to make the varsity team. Two months after her accident she began practicing. Basketball was her sanctuary and taught her to be resilient. All her hard work paid off when she tried out and made the varsity team at her school. In these difficult situations, her mentality carried her towards her goals.
Basketball Camp with kobe bryant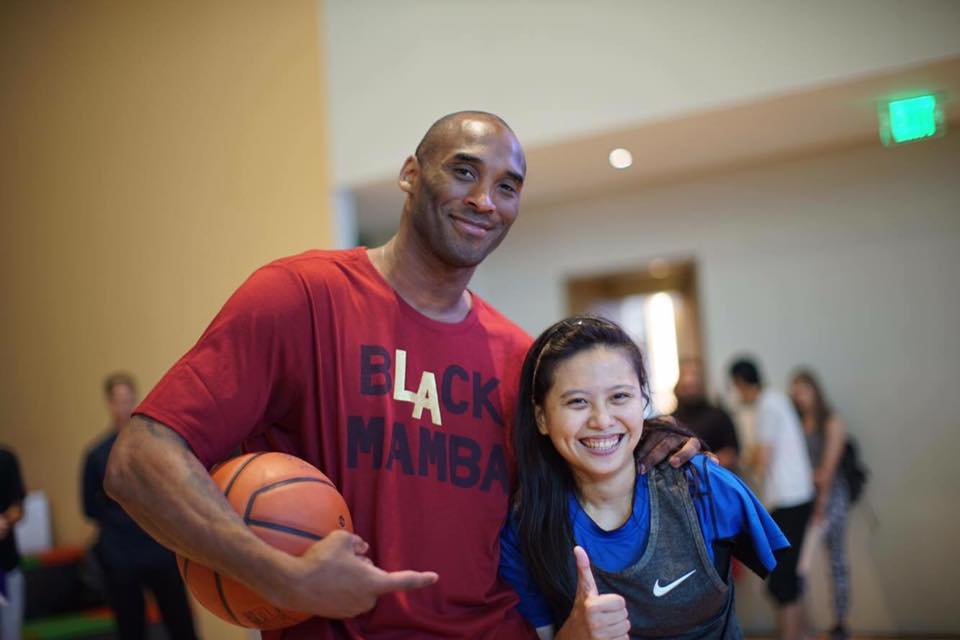 Kat and Kobe during his 2016 Mamba Mentality Tour
In 2016, Kobe Bryant visited Manila, Philippines during his Mamba Mentality Tour. Kat was one of 24 players that were selected to take part in the training camp. At the end of the camp, Kobe came up with a 3-point shooting challenge. Kat was selected to shoot and Kobe laid out the rules, "If you make it, you don't have to run. If you miss it, everybody runs a 17. The worst part is if you miss it, they run, you watch".
She remembers Kobe was standing below the hoop with his arms crossed and she could feel the pressure. Deep down she knew she was going to make the shot since it was her favorite spot to shoot from. The moment was surreal and she remembers "I turned on the switch and prayed". Find out what happened in the video below!
training with Dr. dish
During the pandemic, Kat was looking for more opportunities to train. When looking at facilities she saw there was one that had a Dr. Dish All-Star and wanted to check it out because, "Here in the Philippines, we don't have a lot of equipment like that, most places you shoot on your own and you get your own rebound".
When she tried out the machine she said, "When the first ball came out I thought this is so cool, it was so precise. I wanted the machine to be my shooting buddy, I don't need anyone else, just this machine!" She always finishes her workouts with 50 free throws. At times it was hard for Kat to keep track of her makes and misses while shooting. At the end of some of her workouts she used the Dr. Dish All-Star and was amazed at the ability for it track her personal stats.
what's next?
Kat is looking forward to what's next with basketball. She currently coaches with a team and actively trains. Kat hopes to inspire athletes across the world to be persistent and determined chasing their goals and dreams and continually motivates others through her Instagram, the1armedmamba.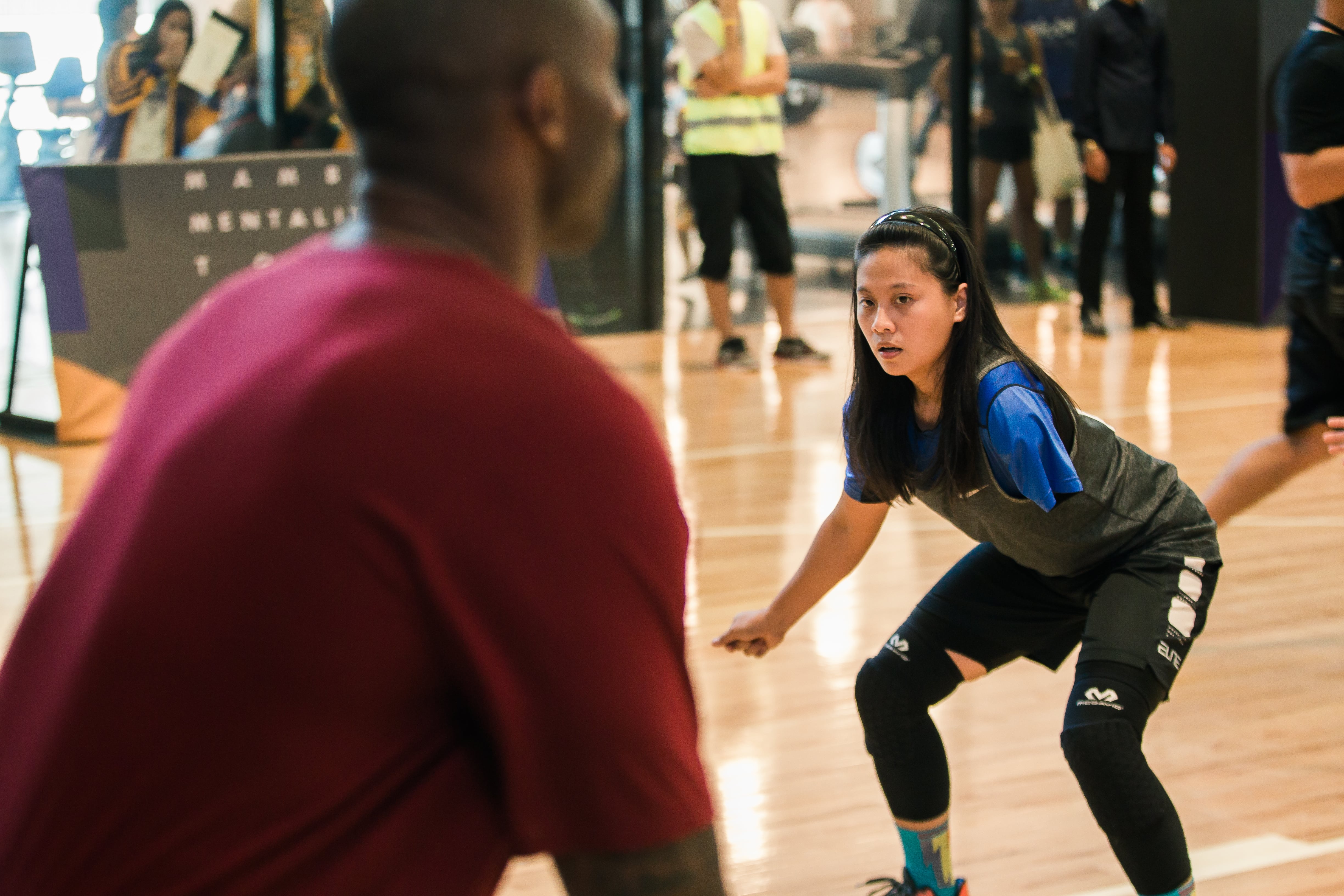 Kat training at Mamba Mentality Tour in 2016.
We asked Kat to share her advice to basketball players who are struggling to find motivation and she said,
We all struggle differently in our lives and you need to win the battle within yourself everyday. Don't give up on something you care about. The struggles, hardships, and setbacks are all part of the process of being better. Remember, you never know who you can touch or inspire. Don't let the outside noise affect how you will do things. Appreciate the opportunities and chances you are given and most importantly, believe in yourself!"

---
We love hearing about the success of our #DrDishFam! Got an inspiring story? Share it with us!