The Importance of Setting Team Standards This Season: 5 Questions to Ask and Free Templates
by Trinity Erickson, on Sep 21, 2023 2:50:52 PM
Establishing expectations and goals for your team right at the beginning of the season sets the tone for every practice and game moving forward. Check out this post for tips on how to do this, including 4 FREE PDFs to guide you through the process.
Before the first practice, ask yourself:
What are my team's goals for the season?
Who do we represent as a team?
Where and when will we be representing the team?
How will we represent the team?
What does a championship team look like?
Once you're able to evaluate your own goals as a coach, look to your players to see what they are looking to get out of this season. Ask them the same 5 questions from above and have a group discussion about everyone's first thoughts, even yours. By getting them involved, and showing them it's their team as much as it is yours, you are encouraging a collective mindset where "We" is more important than "Me".
With this collective mindset, aim to co-create team standards and pillars with your program to establish a solid foundation of trust and open communication. Coach Steve Collins from Teachhoops breaks down this co-creation exercise in 4 easy steps:
Team Goals and Team Representation
Where and When We Represent The Team
How We Represent The Team
Team Motto
Once all of your players have gone through all steps individually, bring them together as a team to discuss all 4 steps and collectively agree on the most important team pillars and championship standards that your program will focus on, and uphold to. From those pillars and standards, create a Team Motto to help carry this excitement and positive team culture throughout the season.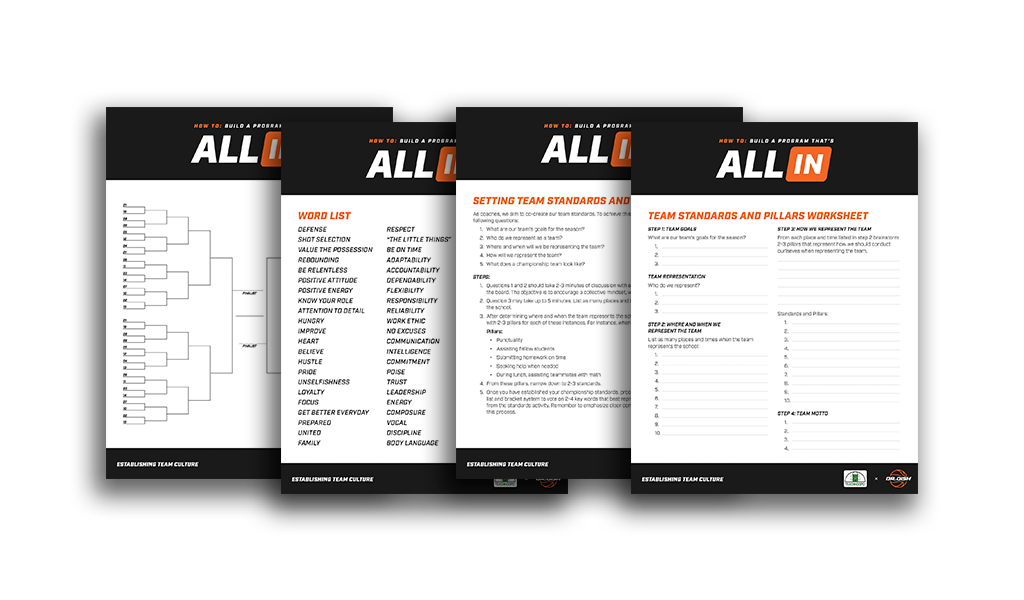 Are you ready to set standards and pillars with your team?
Download our FREE worksheets below to get started.
Looking for a more hands-on approach?
Join Coach Steve in his "Setting Team Standards and Pillars" exercise in Episode 1 of "How to Build a Program That's All In", an exclusive TeachHoops x Dr. Dish Podcast Series.
Sign up now, for FREE!