Steve Nash Free Throw Shooting Drill with Coach Tony Miller
by Tony Miller, on Aug 6, 2022 1:00:00 PM
In this Dr. Dish drill, Coach Tony Miller demonstrates a great competitive free throw shooting drill to incorporate in your training. Check out the full breakdown below!
---
Some of the most frequent questions I get from coaches are, "How do you incorporate free throw shooting into your practices?" and "Do you even have players practice free throws during practice time?" My answer is, "Absolutely. Yes!" We all know that free throws play an important part in us winning (or losing) games.
For a lot of coaches, they only want to be spending time on players shooting "pressure" free throws (e.g., calling a player out from the group to shooting a 1-and-1 with sprints on the line for missed shots). There's nothing wrong with that kind of practice; however, that usually results in players only practicing a few free throws per week during practice periods.
Is there a way to create more pressure situations where players are getting multiple repetitions per practice? When it comes to practicing any kind of shooting, you can create pressure several ways – by keeping score, by adding a timed element, or by using a combination of scoring and time. A great way to do this is with the :30 Free Throw Drill.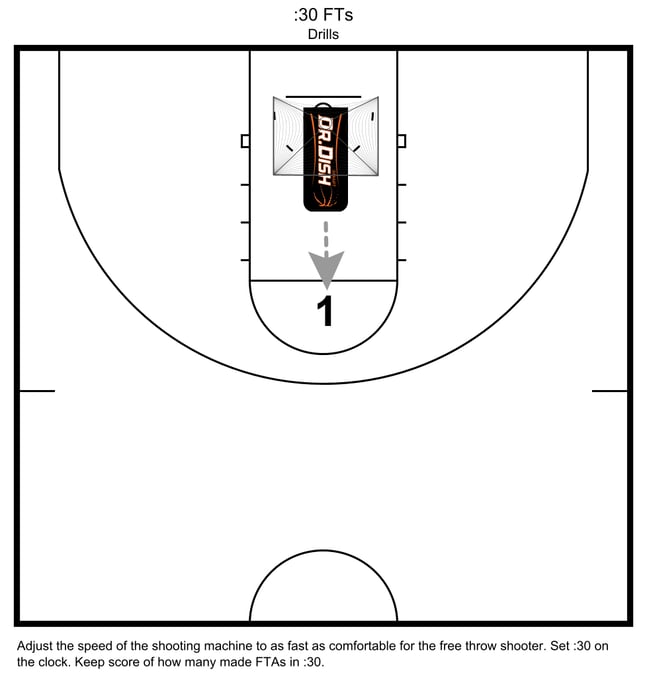 Instructions:
2 to 3 players at each basket
Set :30 on the clock.
Adjust the Dr. Dish speed to 2 or 3
Shooter will take "catch-and-shoot" FTAs
Keep score of FTMs/FTAs in the :30 time period
We'll usually have a session prior to each water break (i.e., 2-3 times per practice). And for each session, we set the goal of 80% or better as a group. Individuals feel the pressure to perform in order for the group to achieve its goal.
A little skeptical? Check out this article about UConn's improved free throw shooting with the help of this times shooting drill.
Once you give it a try, let me know if you see improvement in your team's performance.
---
Looking for more basketball training resources? Check out our FREE 5 Day Virtual Camp with tons of content from elite players/trainers like Skylar Diggins-Smith, Jordan Lawley, DJ Sackmann, Kyle Travis, Cameron Brink, Bjorn Broman and more!